Primary content
COVID-19 Update: A Message to our Guests
Warm greetings from Anantara,
As our properties reopen and the world begins to travel again, I would like to introduce you to some of the measures we are taking to safeguard your health, safety and wellbeing at our hotels and resorts.
As we welcome back more and more guests, I am also pleased to share that we continue to offer extra flexibility on all new reservations so you can book with confidence.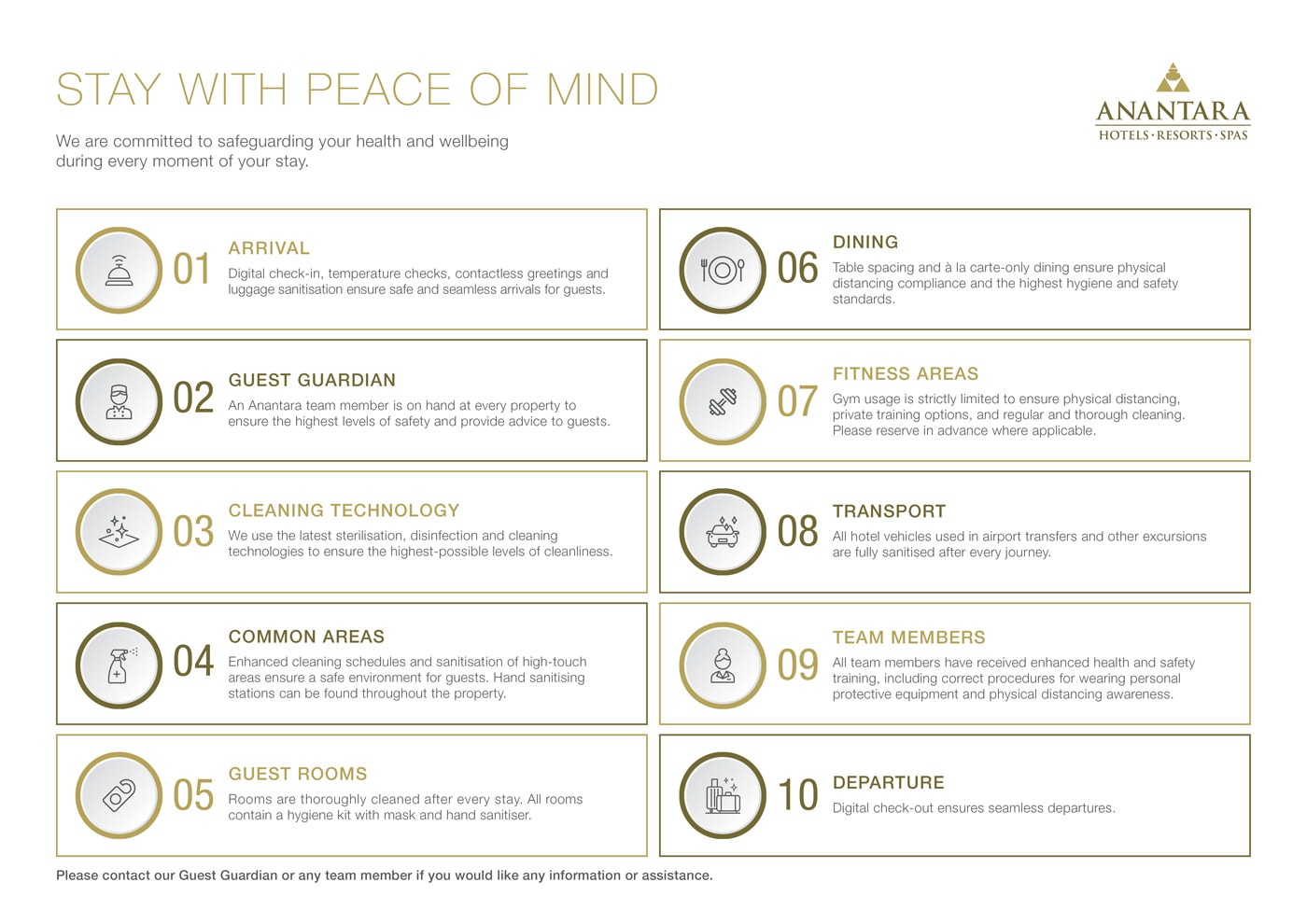 Stay with Peace of Mind
We are committed to safeguarding guests' safety, health and wellbeing through our 'Stay with Peace of Mind' health and safety initiative. Key measures include:

Arrival & Departure
Guests have the option to check in online prior to arrival and check out online before they depart. Everyone arriving at our properties has their temperature checked, and all luggage is sanitised before it enters the property.

Transport
Hotel vehicles used for airport transfers and/or excursions are fully sanitised after every journey. Our drivers follow the strictest hygiene standards and hand sanitiser is available in every vehicle.

Guest Guardians
A Guest Guardian has been appointed at each property to ensure the highest level of health and safely compliance at all guest touchpoints.

Team Members
All team members have received enhanced COVID-19-related health and safety training, including correct procedures for wearing masks and personal protective equipment and physical distancing awareness.

Public Areas
We have significantly increased cleaning schedules in all public areas with particular focus on high-touch areas such as door handles and lift buttons. We strictly adhere to physical distancing best practices.

Guest Rooms
Rooms are thoroughly cleaned and disinfected after every stay. Every room contains a personal hygiene kit with mask and hand sanitiser for each guest.
For a full list of our COVID-19 measures, please click here.
Government-approved Quarantine Hotels – Thailand
For Thai and foreign nationals returning to Thailand, Anantara is offering luxurious quarantine packages complete with world-class healthcare at select hotels and resorts.
Book with Confidence
Given the exceptional circumstances we currently face, we are offering extra flexibility and support for all new reservations booked in the period from 13 March 2020 until 30 June 2021. This includes:

For 'Best Flexible' rates: Free change of date, change of destination or cancellation up to 24 hours prior to arrival, for stays completed prior to 30 June 2021. Subject to availability.
For rates with part or full pre-payment: Free change of date or change of destination up to 24 hours prior to arrival, for stays completed prior to 30 June 2021. Subject to availability.
If you need to make or adjust a reservation, please call our team on +66 2 365 9110 or email reserveanantara@anantara.com and we will be delighted to assist you.
* Please note that these conditions do not apply to quarantine package stays (ASQ and ALQ) at participating hotels and resorts in Thailand. Please refer to individual package terms and conditions for information on cancellations and change of dates.
Welcome Back
As we envision and hope for a brighter, freer future, Anantara hotels and resorts across Asia, the Middle East, the Indian Ocean, Africa and Europe look forward to welcoming you back with our traditional hospitality and personalised service – connecting you to some of the world's most extraordinary destinations and landscapes, immersing you in unique cultural experiences and celebrating the freedom to explore in authentic luxury.
Wishing you peace of mind,

Dillip Rajakarier
Group CEO – Minor International
CEO – Minor Hotels
Owners of Anantara Hotels, Resorts & Spas