Primary content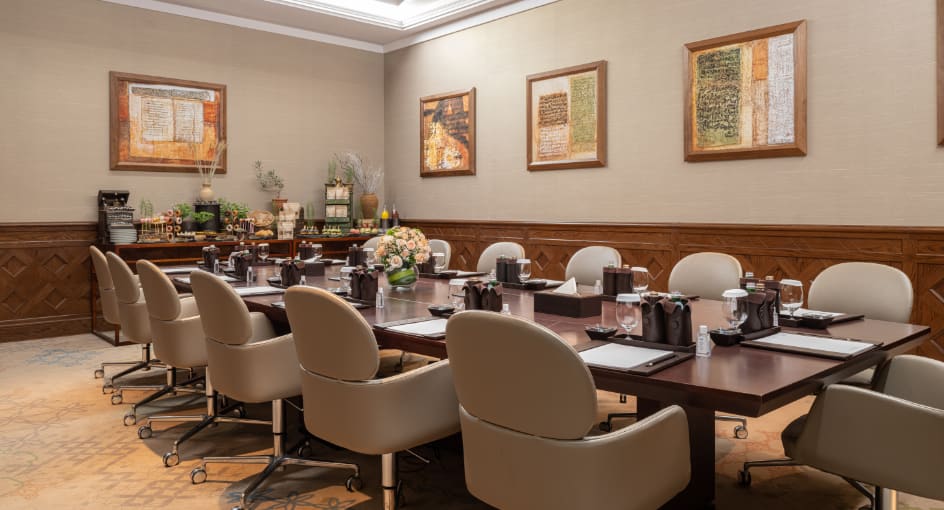 Omani hospitality and business savoir-faire at one of the world's highest luxury hotels.
A two hours' drive from Muscat, and three hours more from the UAE, majestic design and incredible canyon views set the stage for iconic retreats and celebrations at our Oman business hotel.
Hold formal business conferences in a luxury hotel ballroom. Feast on success afterwards in a fortress tower. Take advantage of spectacular mountain scenery for events - following in the footsteps of Top Gear, who filmed their race to our resort's famous viewing platform, Diana's Point.
Seating Plans
THEATRE

150

CLASSROOM

100

U-SHAPE

-

BOARDROOM

-

BANQUET

120

COCKTAIL

120

Experience the sophistication of a city venue, but with a breathtaking mountain view. Take advantage of state-of-the-art audiovisual equipment and the flexibility of dividing the space in two.
Al Ain (Half Ballroom with Partition)
SIZE (M) 12x10x5
More Details
Seating Plans
THEATRE

60

CLASSROOM

50

U-SHAPE

26

BOARDROOM

-

BANQUET

50

COCKTAIL

100

With a choice of seating arrangements for up to 60 people, seminars and presentations are carefully tailored to your group's needs in this naturally lit space.
Seating Plans
THEATRE

-

CLASSROOM

-

U-SHAPE

-

BOARDROOM

14

BANQUET

-

COCKTAIL

-

An ideal venue for an executive gathering, Al Aqr extends from a spacious, elegant boardroom to a large foyer for breakout sessions.