Primary content
Top Places to Have a Tipple in Thailand With Anantara
Anantara has some of the most unique bars in Thailand and you'll be hard pressed to pick just one favourite, so we've travelled from the jungles up north, to the City of Angels all the way down to the islands in the south and picked our Top Ten for you to bucket list for your next sundowner or night cap.
Elephant Bar and Opium Terrace – Anantara Golden Triangle Elephant Camp and Resort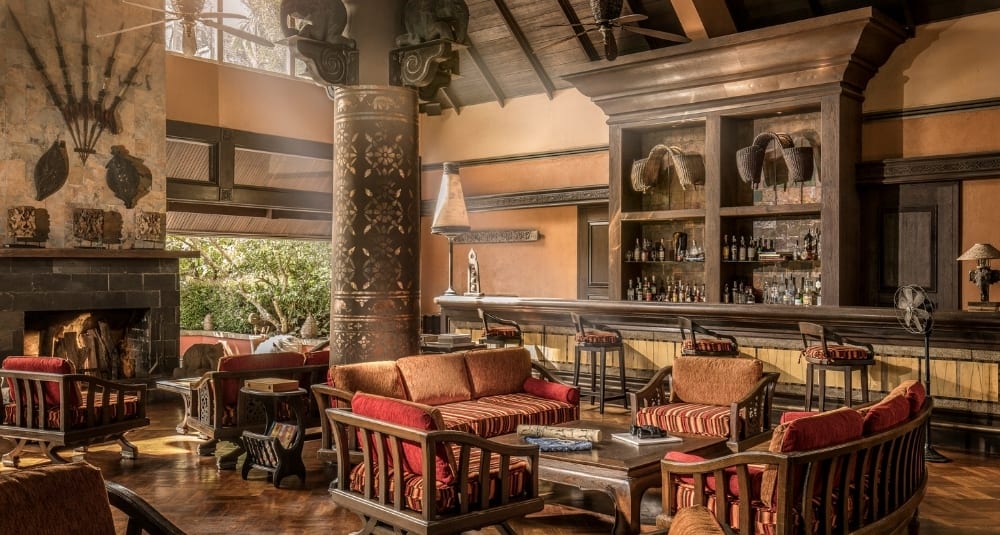 A cosy haven for travellers to either lounge in comfort with a fire blazing in winter, or outside admiring the stunning infinity pool and Mekong Valley. The Elephant Bar and Opium Terrace comforts guests with light bites from northern Thailand. A wide range of beverages include Thai inspired cocktails such as the Street Hawker blend of vodka, Martini Bianco, freshly squeezed lime and passion fruit juices, coriander leaf and a spicy red chili, and the Killer Bee cocktail concocted from vodka, Jägermeister, kaffir lime leaves, red chili and fresh honey.
THE SERVICE 1921 - Anantara Chiang Mai Resort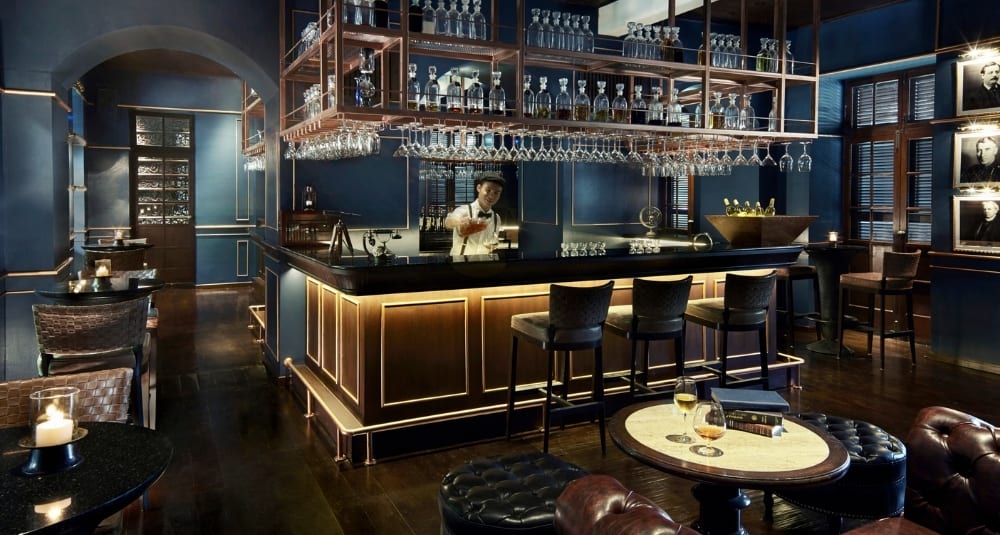 Designed for a tropical climate with spacious verandas to catch the breeze off the Ping River, the splendid Service 1921 Restaurant and Bar was built in 1915 and opened in 1921 as the British Consulate. The Service 1921 reimagines this heritage with a fictitious illusion of the British government's secret intelligence service. Social and private spaces range from communal dining salons, an elegant bar with a plush lounge and al fresco seating on the wrap-around lower and upper verandas, to the award-winning wine cellar for connoisseur journeys and a private dining room accessed through a secret book shelf door in the library wall.
Aqua Bar – Anantara Siam Bangkok Hotel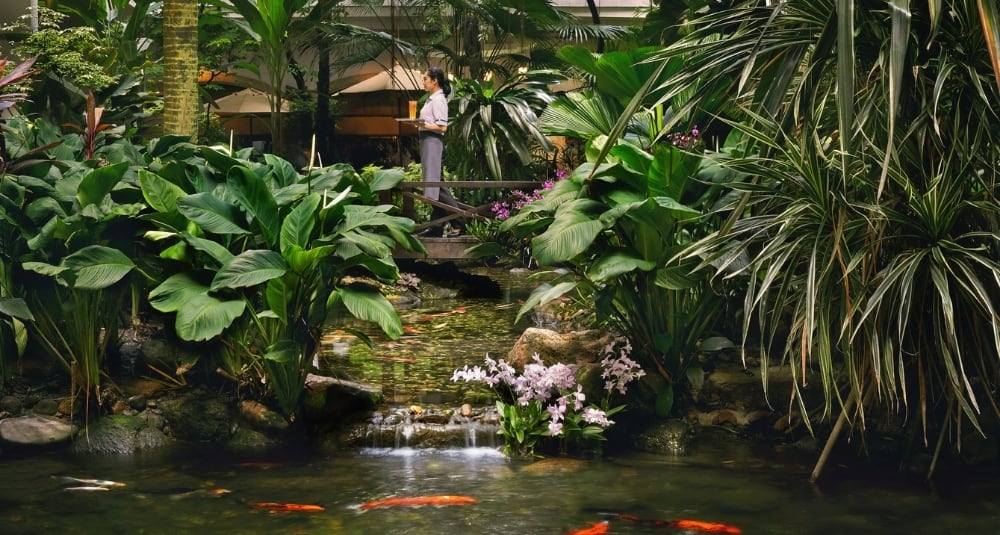 From celebs to politicians, to Thailand's high society, Aqua Bar, the inner city hidden gem, is the place to be spotted in Bangkok. In Aqua's open air garden courtyard, guests can snack on creative appetisers, enjoy meals of Thai noodles and Mediterranean light bites, or indulge in innovative ice creams. Freshly squeezed juices, draught beers and virgin cocktails refresh, and for those who prefer beverages with a kick, Aqua serves the best martinis in the city.
Longtail by the River - Anantara Riverside Bangkok Hotel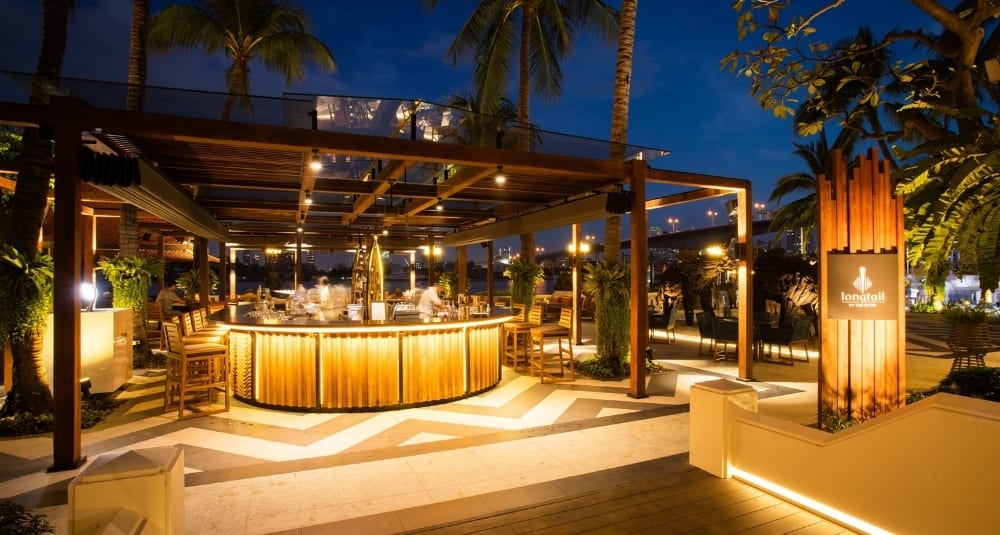 The perfect spot to watch the world go by, unwind with a drink, take in the Chaopraya River view, sunset and cool breeze. Snack on rustic Thai cuisine from around the kingdom and explore the world of Thai craft beer and exotic cocktails.
Loy Nam – Anantara Hua Hin Resort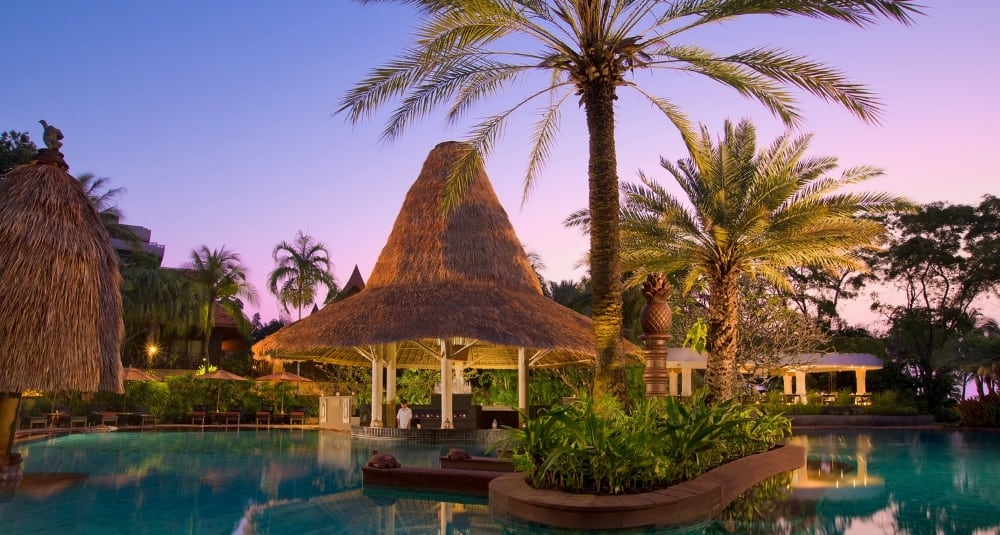 Located at the heart of the resort, the lush pool bar invites lazy days by the water's edge. Swim up to the thatched-roof bar for a refreshing cocktail in between laps. Lay back on your sun lounger and feast on Thai favourites such as spicy somtam or Pad Thai
EDGE20 – Anantara Rasananda Koh Phangan Villas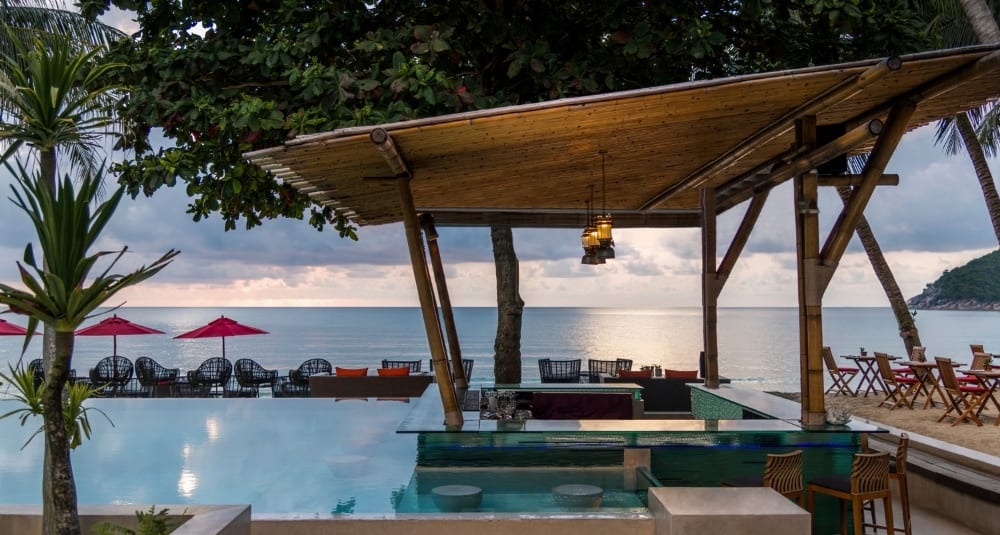 Quench your thirst and satisfy your hunger at this chic island-style bar in Koh Phangan. Cool down with soothing brews under a palm or at your stool by the bar. This island-style bar has a more than extensive menu of fresh fruit concoctions, signature cocktails and personalised creations making it the place to while your day away. Enjoy your choice in refreshing drinks from a Thai caipirinha to a Thai lime ice tea or a cool local beer.
A.Shore – Anantara Bophut Koh Samui Resort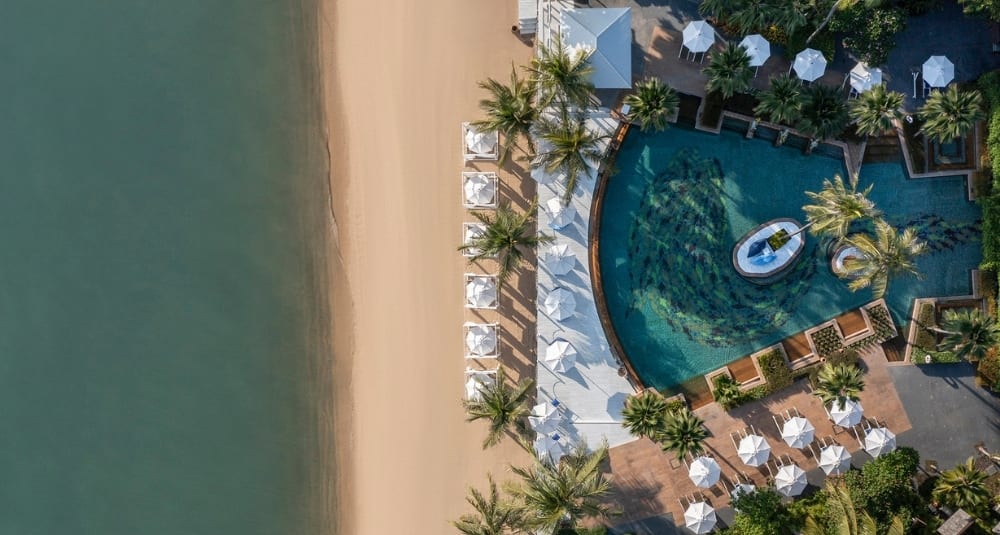 A.Shore puts a modern spin on the traditional desert island beach shack, with its whitewashed deck adorned with rustic furnishings including the hull of a once-hardworking fishing boat transformed into a comfy private booth. Matching the décor, the menu is stylish yet informal, starring simple Mediterranean fare with Asian influences. Think light appetisers, flavoursome main courses and fresh, grilled seafood, perfect for al-fresco enjoyment. Relax on loungers or beanbags around the pool, sink into a beanbag or perch on a swing at the bar, cocktail in hand and soak up the sunset views to a soundtrack of upbeat tunes and the soft roll of the waves. Look out for sundowner sessions, guest bartender days, as well as local collaborations for art and culinary experiences.
TREETOPS SKY DINING & BAR - Anantara Lawana Koh Samui Resort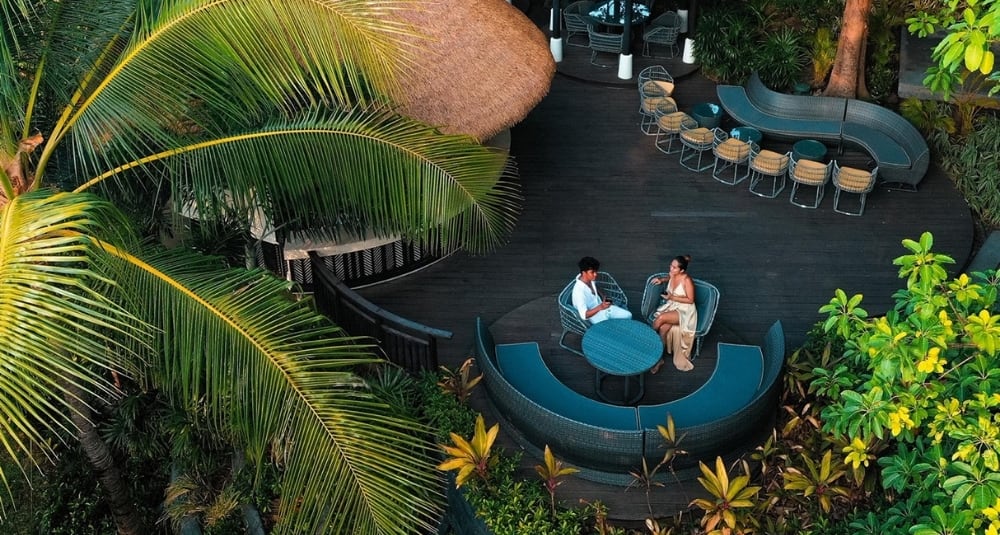 Savour the beauty and flavours of Koh Samui and the elegance of Anantara Lawana in Thailand's most romantic setting at Tree Tops Sky Dining and Bar. Step across to dine at one of only eight private Sala's nestled in the 120-year-old tree top canopy while enjoying award-winning European - Asian flavours that draw the island's most chick crowd for delectable romantic dinners each evening. Our team is keen to welcome you and deliver a truly memorable dining experience during your visit to Koh Samui.
AGE - Anantara Layan Phuket Resort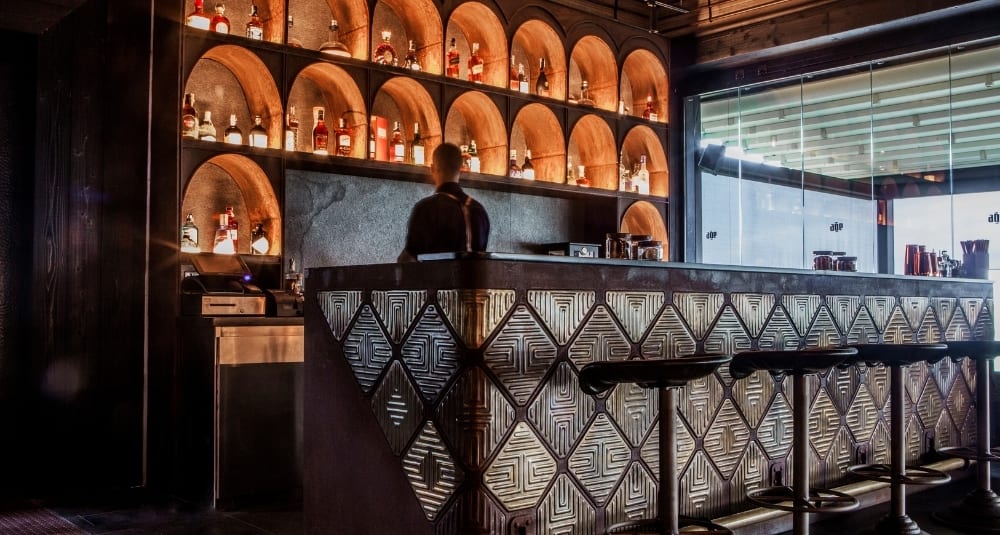 The first of its kind in Phuket if not Thailand, Age takes a high-end grill concept to a different level, with its main focus on premium cuts of specialist beef from different parts of the world. Choose your wine from one of the sixty premium vintage and new world labels or if it's stellar cocktails you're after, this is the place to be. Dominated by dark woods, rusted steel and raw leather, its industrial look is something you'd expect in a warehouse restaurant on New York's Lower East Side instead of on a tropical island.
TREE HOUSE - Anantara Mai Khao Phuket Villas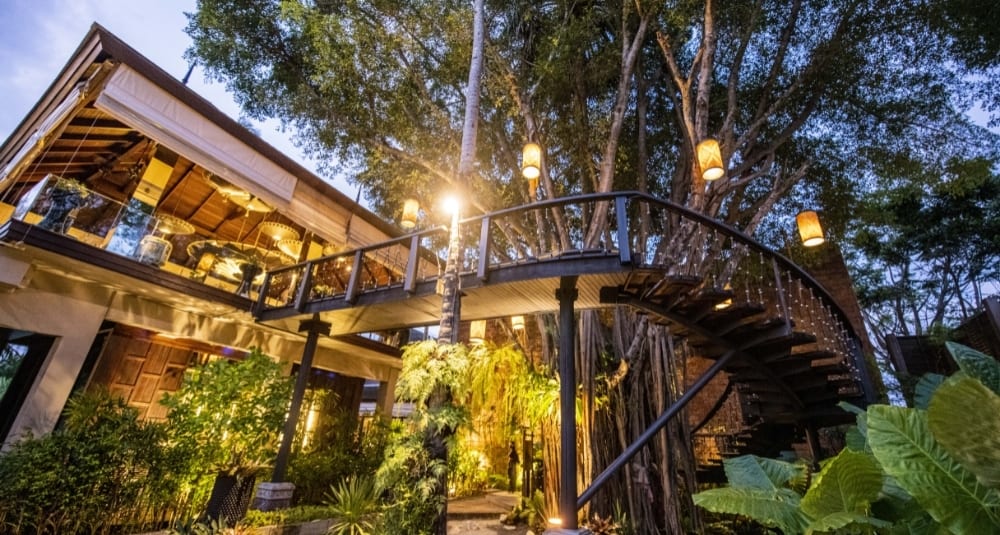 Wind your way around an ancient banyan tree and up into one of the most exclusive restaurants in Phuket. 360° views of tranquil landscaping and lagoons is the setting for an afternoon and evening to remember. Sample only the most exquisite omakase, each mouthful perfectly and artfully presented by the chef: ingredients are flown in fresh from Japan, highlighting the riches of each season. Pair with carefully curated sakes and Japanese-inspired cocktails.
We couldn't stop at just ten so here's one more bonus bar for your bucket list when visiting the Land of Smiles…...
LOST & FOUND – Anantara Riverside Bangkok Hotel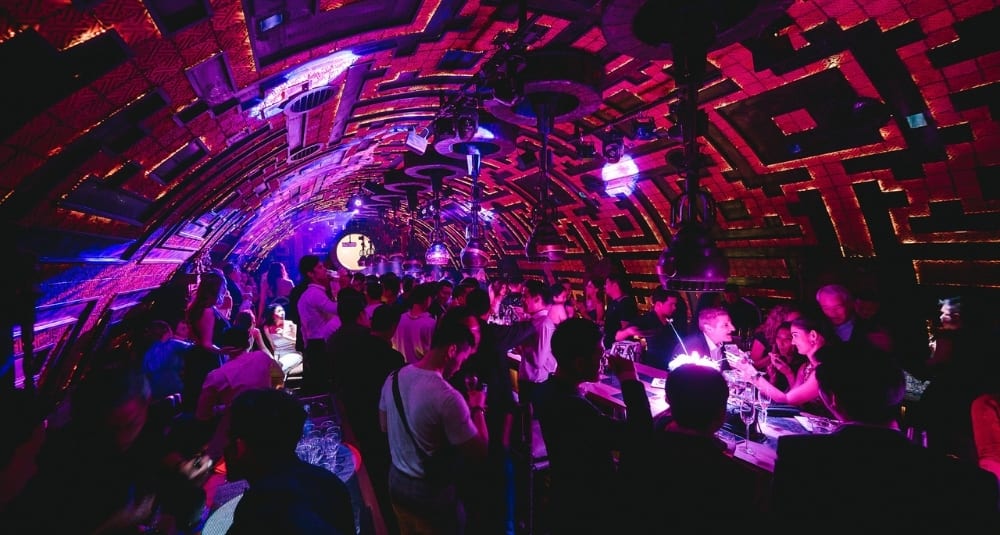 In a forgotten bolthole on the banks of the Chao Phraya, the chance to find yourself awaits. Leave the world behind and step inside a celebration of self-expression. At Lost & Found, every meal is a feast, every night is a festival and every curious corner is a platform for pop-up performances from Bangkok's most talented artists who push the boundaries of fashion, art, theatre and drag.
Curated For You
You Might Also Like