Primary content
Ultimate Adventure on High at Anantara Al Jabal Al Akhdar
When Princess Diana visited Oman in 1986, mountain climbing didn't feature high on her agenda. In fact, it's safe to say, it wasn't on the itinerary at all. Unlike the people's princess, whose brush with recklessness was limited to sitting in quiet contemplation at what is now known as Diana's Point, our Oman experience is all about the adrenaline-fuelled pursuits.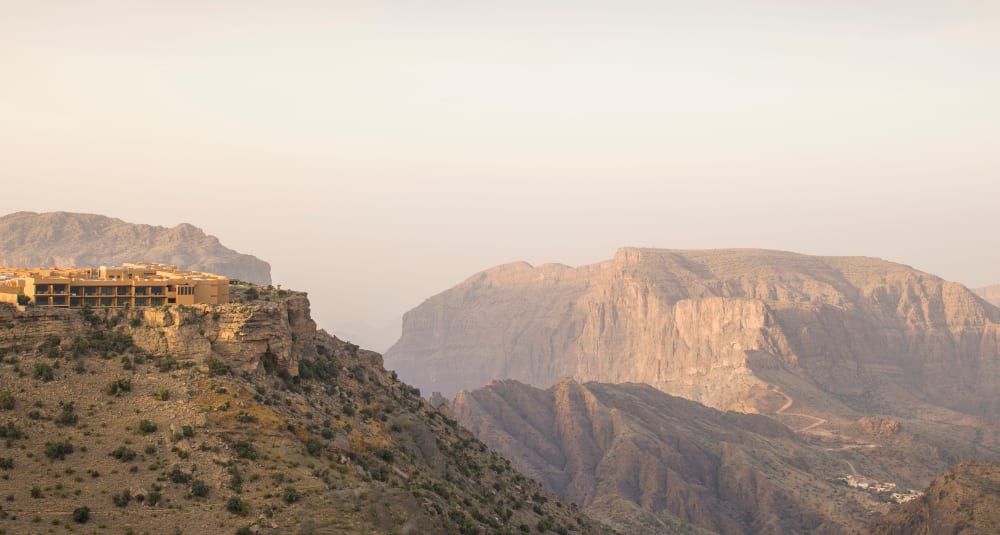 We are here to challenge ourselves to Anantara Al Jabal Al Akhdar Resort's mountain climbing experience - The Ultimate Jabal Activity Wall. At Saiq Plateau canyon, 2,000 meters (6,562 feet) above sea level, nature is equal parts uplifting and humbling. Quiet contemplation at a safe distance from the cliff edge suddenly sounds very appealing. But a via ferrata course and a zip line beckon.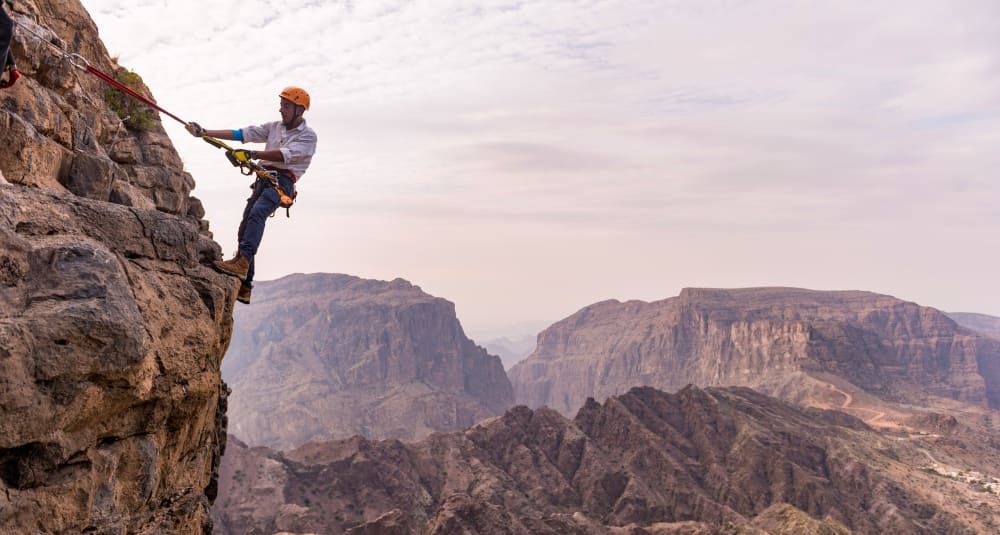 As our instructor fstidiously attaches us to the cables with a waist harness and a locked carabiner system, we are presented with a choice of routes ranging from entry level to advanced difficulty. A quick show of hands and we settle on the novice option. Our intrepid group breathes a collective sigh of relief at the propitious announcement that the 200-metre path has a series of escape routes offering the choice to quickly abscond to mountaintop safety.
The mood swings from trepidation to exhilaration as we start tracing our way along the cliff-face navigating jagged rock formations and ascending ladders and vertical stairs. Enveloped in preternatural silence and enthralled by the views, we barely notice the passage of time. A strenuous physical activity, the experience is also surprisingly akin to meditation making you focus on the next step, next move, and next breath with everything else fading into the background.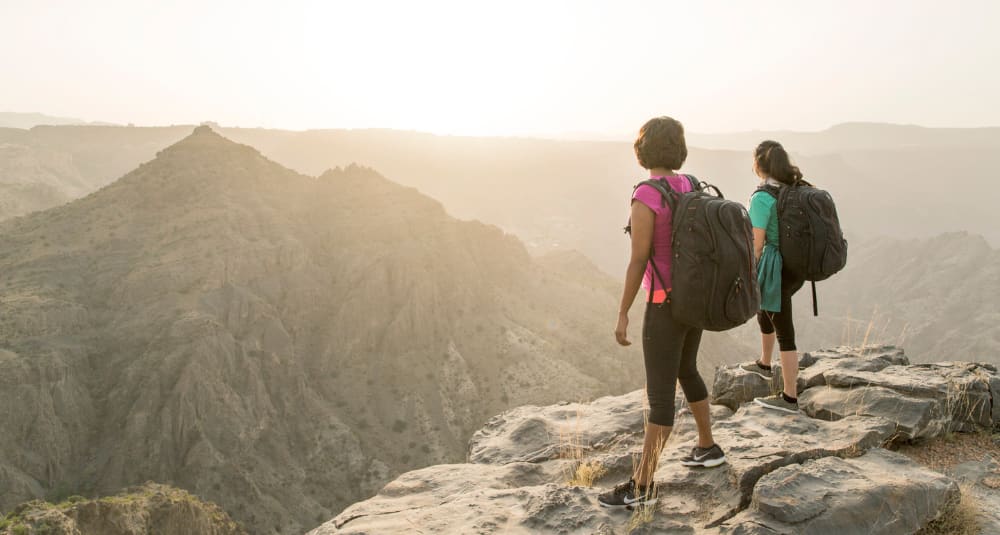 After an hour-long climb, the weathered rock is as familiar as the face of an old friend. With familiarity comes overconfidence and ambitious daydreams of completing the advanced route next - with natural grace and in record time. An unwelcome return of nerves and jitters puts our mountaineer ambitions in check as we apprehensively eye two zip lines suspended high above the vast canyon that plunges to 1,000 metres at its deepest point.
Needless to say, in the blink of an eye we are back into the thick of it and soaring over the plateau with a patchwork of peach, pomegranate and Damask rose orchards that have been farmed here for at least a thousand years. As gravity propels us towards the zip line base camp, fragrant air cooling our flushed faces, we take in idyllic villages still producing rosewater the traditional way. In contrast to our meteoric passage over the landscape, at Saiq Plateau time appears to move very slowly indeed.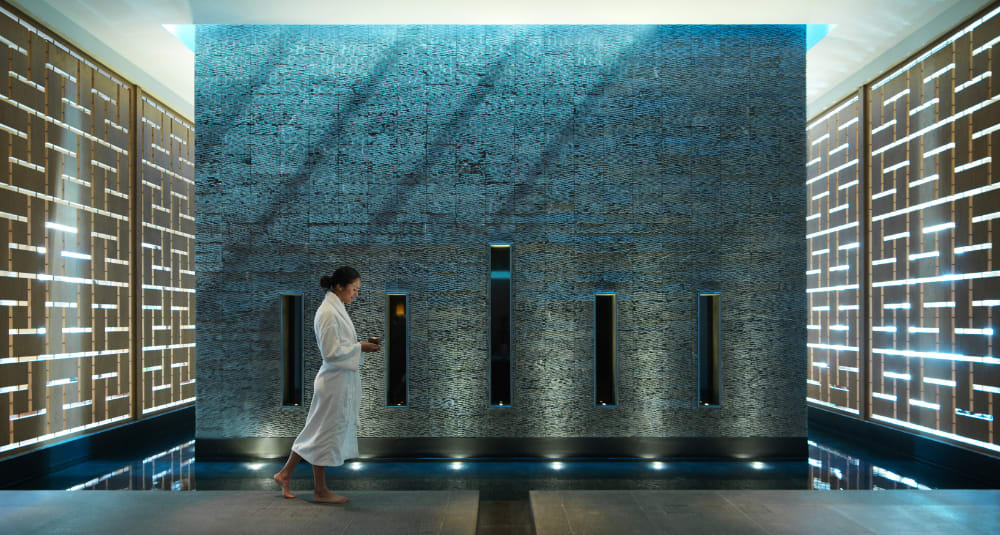 Back on the ground, we dive straight into an indulgent spa experience that is exclusive to Anantara Al Jabal Al Akhdar. The aptly named "Rose Rescue Ritual" draws on the soothing, balancing and hydrating qualities of local Damask roses. Post-treatment, looking radiant and feeing fresh like a rose we are ready to take on the next challenge. Now where did we put that advanced route map again?
Curated For You
You Might Also Like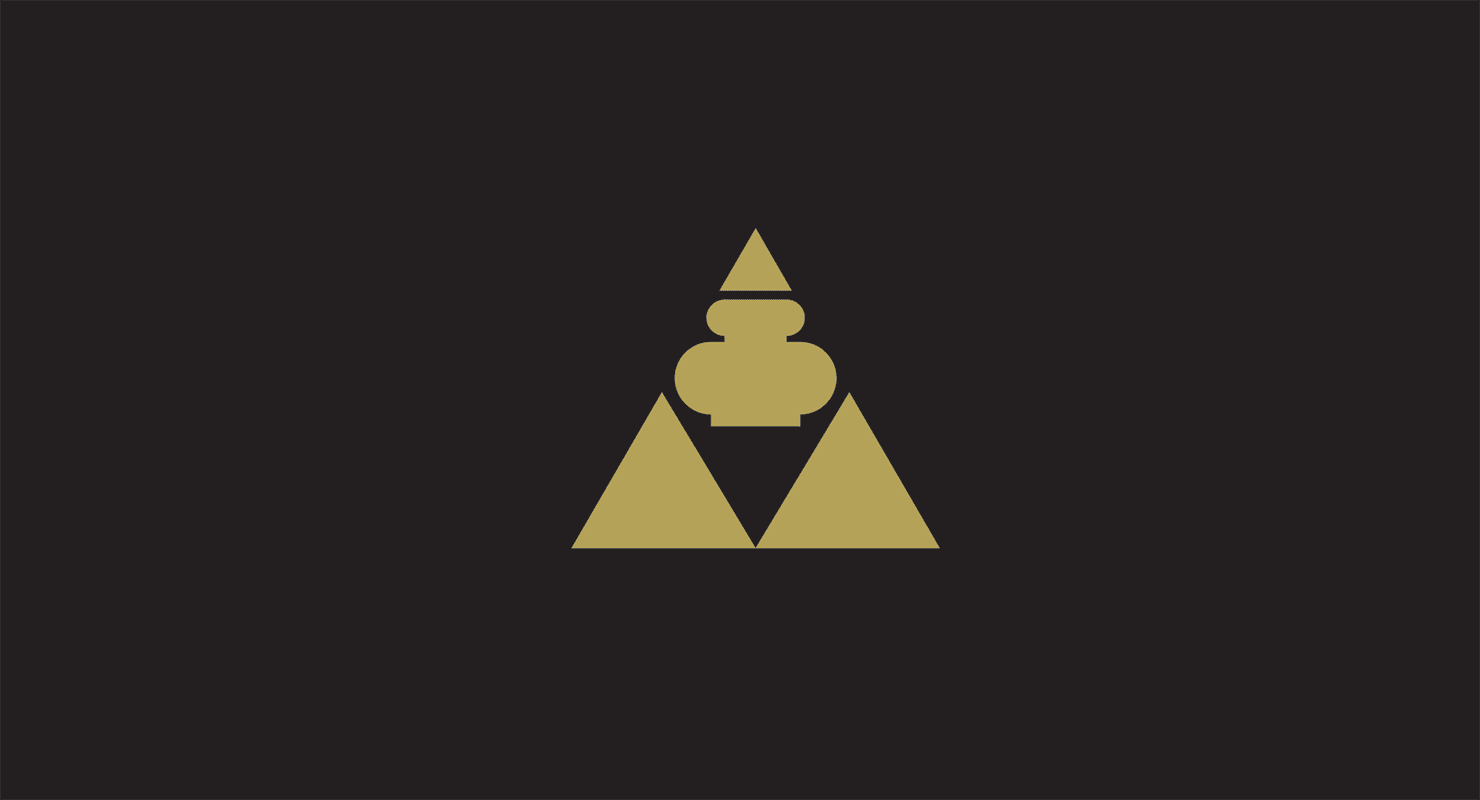 One of the highest located resorts in the world, Anantara Al Jabal Al Akhdar perches on the edge of a canyon in the Hajar Mountains of northern Oman. Boasting refreshing cool temperatures and blooming desert surrounding, the resort provides the perfect escape for ultimate unplugging and exploring. Visit cave villages, Damask rose valleys, and the nearby ruins of Niwza, once known as the Pearl of Islam. Savour Arab specialities in a fort tower, shisha as you stargaze, and private canyon dine where Princess Diana once stood. Unwind with sunrise yoga and indigenous hammam rituals.