Primary content
Asia Unveiled: Unearth the Best Destinations to Visit
Indulge in a serene expedition through the lush landscapes of Chiang Rai or surrender to the tranquility of pristine shores in Bali. Beauty beckons from every corner of Asia, promising a mesmerising encounter at every step. Each region possesses its distinct allure, accompanied by a captivating cuisine, a wealth of cultural heritage, and a captivating history, ensuring that travelers are captivated by the diverse tapestry of experiences on offer. Immerse yourself in the irresistible charm of Asia and create cherished memories that will last a lifetime.
Desaru, Malaysia
Known as "village of soft palms" in Malay, this seaside town greets visitors with 16 kilometres of scenic coastlines, towering palm trees, azure blue and emerald green water, sparkling sand and a sense of calm you'd expect from a remote beach thousands of miles away from the city.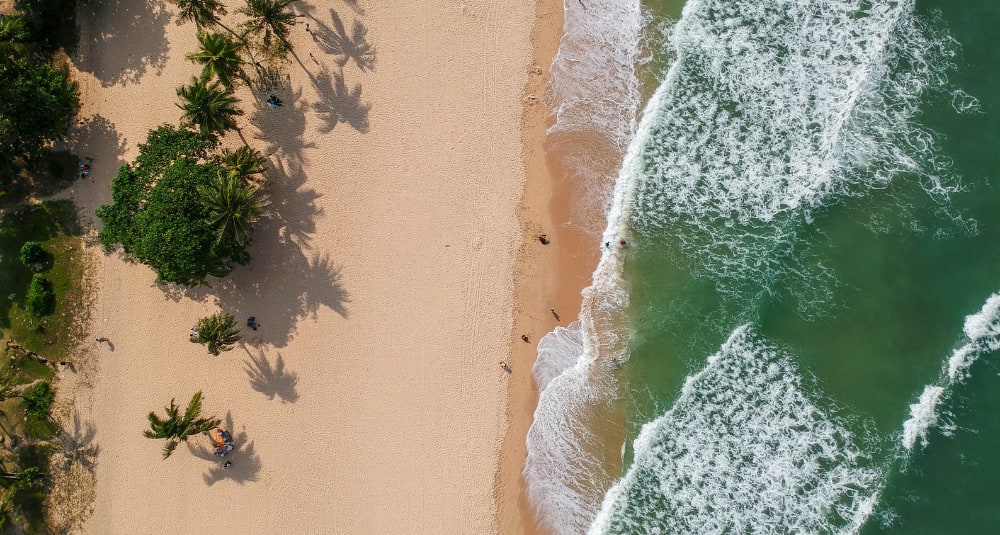 But there's more to Desaru than tranquil beaches. Immerse yourself in eclectic scenery at Desaru Fruit Farm where a pleasant stroll through 180 acres of tropical fruit plantation, herb and vegetable gardens awaits. Taste fresh, locally grown produce and enjoy a range of activities at the petting zoo and the mangrove forest. The latter features an evening cruise where the dazzling lights from the fireflies illuminate the night.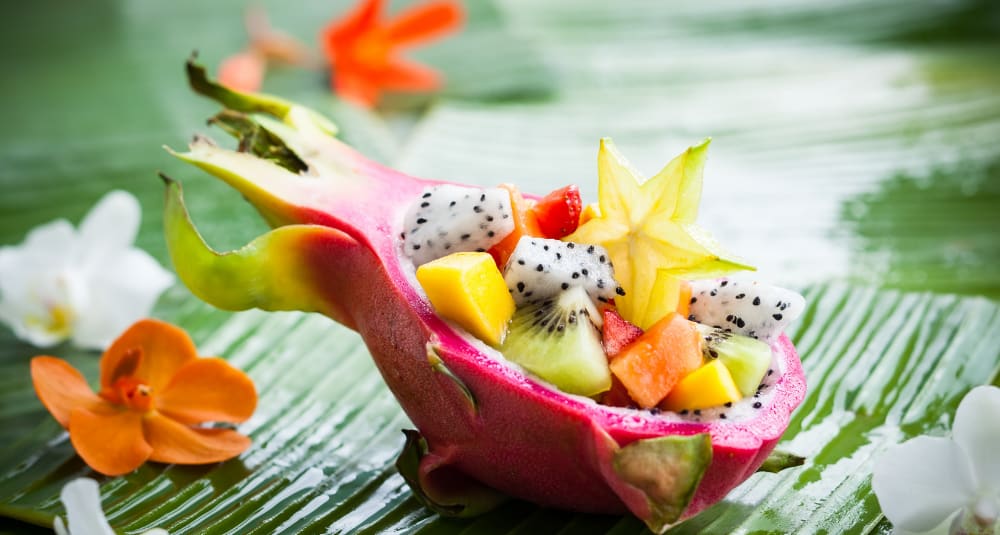 Seeking a taste of authentic Malaysian dishes in an elevated setting? Turmeric, an all-day restaurant at
Anantara Desaru Coast Resort & Villas
has a make-your-own roti canai (soft flat bread served with curry) and nasi lemak (rice cooked with coconut milk and pandan leaf) section during breakfast and live chef stations during lunch and dinner.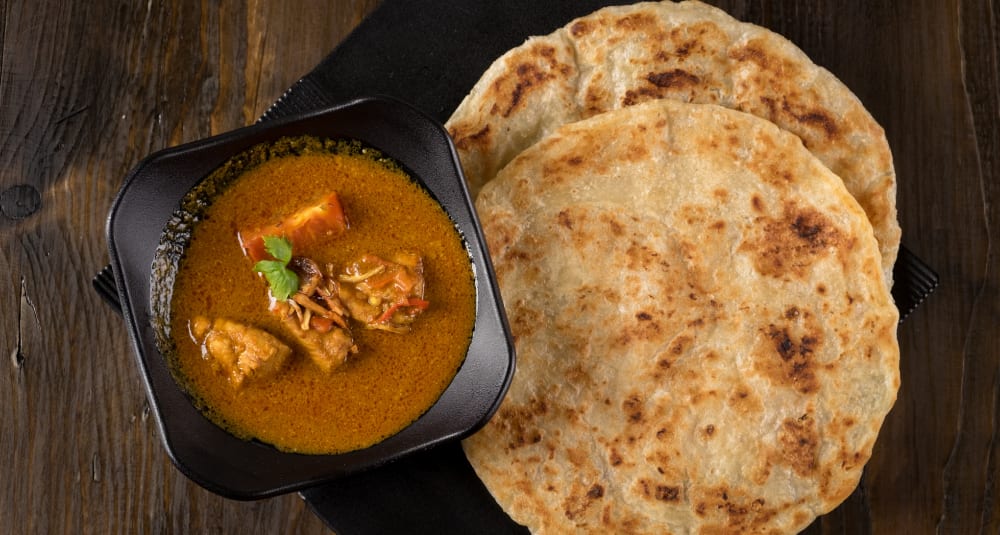 Quy Nhon, Vietnam
Located on Vietnam's central coast, Quy Nhon beguiles with lush mountains and picturesque beaches. Start your journey at Ky Co beach where the worries of the world are washed away by the blissful sound of the waves.
If you fancy a walk along the beach-side trail surrounded by winding rocks and hills that reveal panoramic views of the ocean, Eo Gio is a beautiful beach-side sanctuary located just 15 minutes away from Ky Co beach.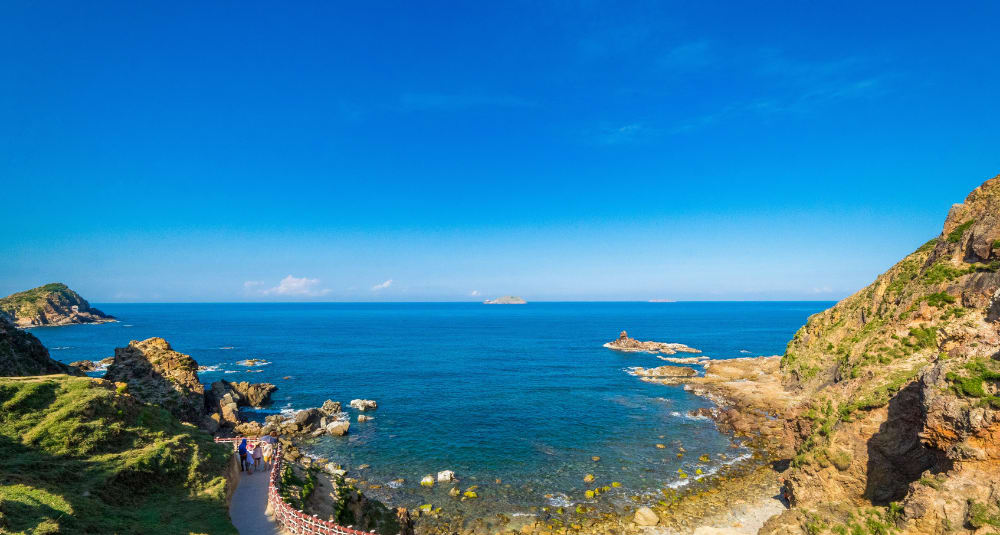 It's common for visitors to head back to the resort to recharge after being out in the sun. Having said that, Anantara Quy Nhon Villas is designed with the ultimate relaxation and rejuvenation in mind. Every villa features panoramic views of the ocean and selected villas are equipped with a butler, ensuring the most convenient and hassle-free stay.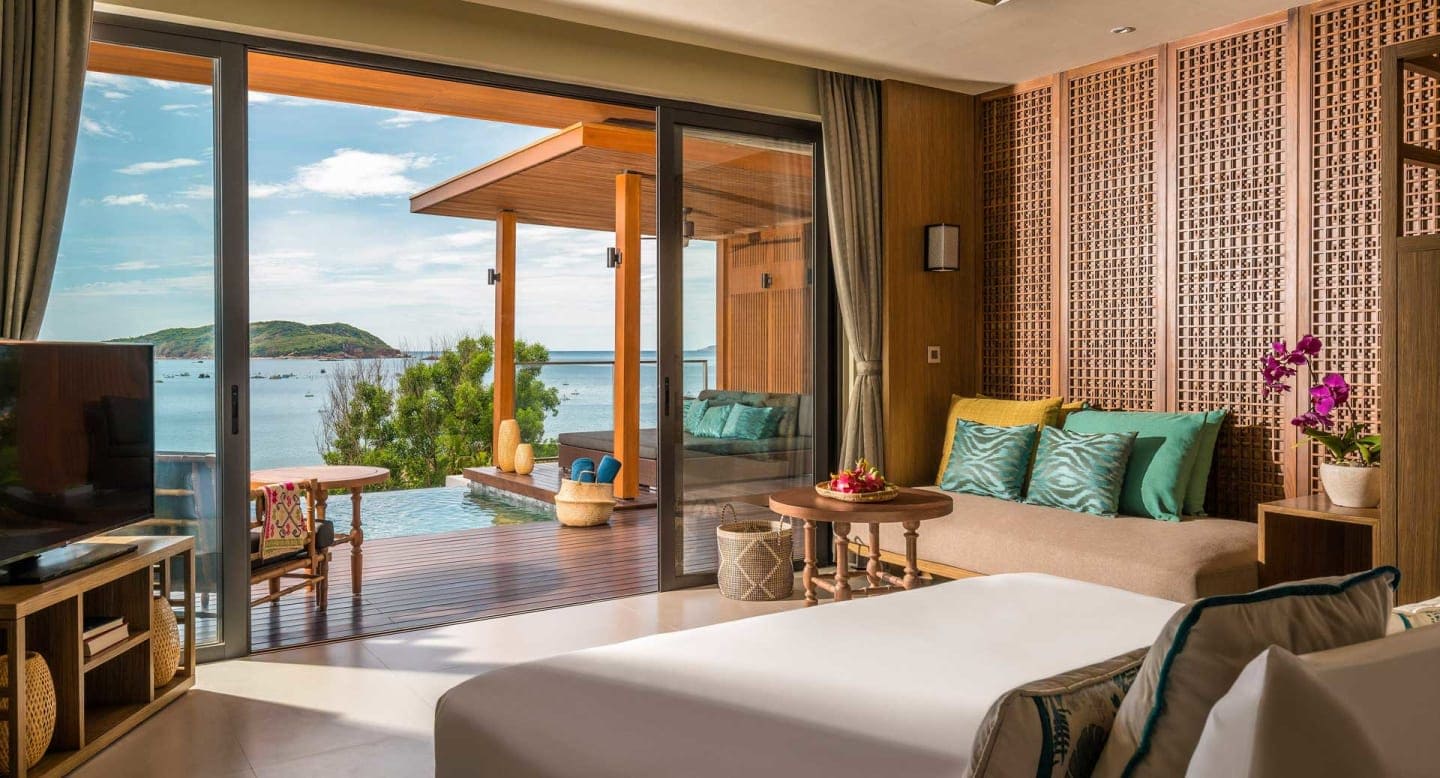 Chiang Rai, Thailand
Chiang Rai, home to the Golden Triangle, is a lush haven of majestic landscapes and natural wonders. Visit the Choui Fong Tea Plantation, one of the largest and finest tea producers in the province with a plantation surrounded by vast green spaces with expansive views of the rolling hills and mountains. Embrace the scenic ambience where the horizon stretches as far as the eyes can see. Breathe in fresh air and sip on rich and aromatic matcha, oolong or other tea selection of your choosing. Even better, pair it with delectable treats such as the green tea cake and enjoy the silence and sensory pleasures of the simple beauties that surround you.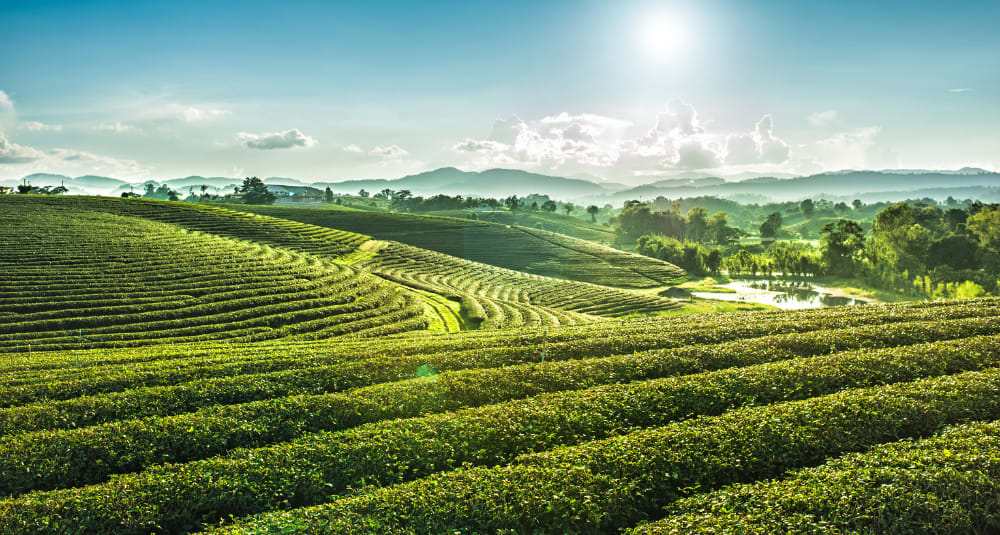 Descend from the hilltop and traverse through the heart of Thailand, Myanmar and Laos with a longtail boat trip through the Golden Triangle. Feel the wind brush against your face as you drift along the Ruak and Mekong Rivers embraced by thriving greenery, golden Buddha statues and beautiful shrines.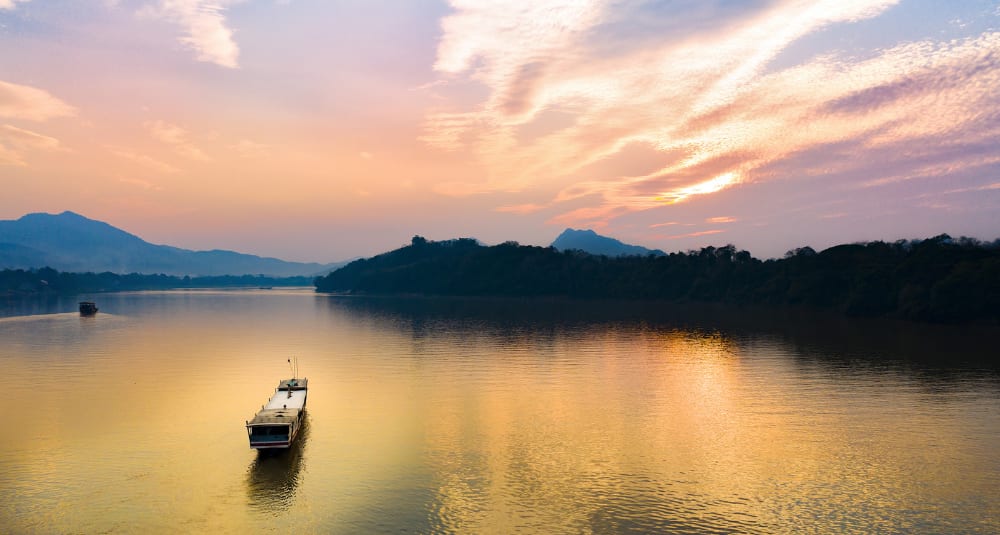 Both excursions are available at
Anantara Golden Triangle Elephant Camp & Resort
, which puts you in a tranquil jungle that overlooks the borders with Myanmar and Laos. Spend an unforgettable night observing Thailand's majestic elephants in their natural habitat from the comfort of our very own, fully furnished, transparent Jungle Bubble with uninterrupted views of our gentle giants and the romantic starlit sky above.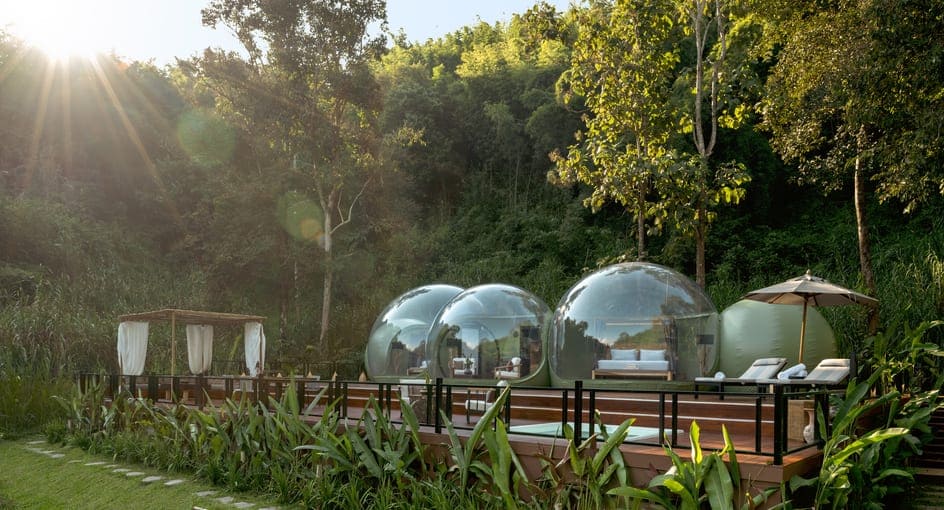 Bali, Indonesia
Dense jungles, vibrant coral reefs and iconic beaches are some of the reasons why travellers fall head over heels with this tropical paradise. And while Nusa Dua and Canggu beaches are flawless, there's another underrated beach that is waiting to be explored. Nyang-Nyang beach is a tucked away bay and one of the quietest and arguably the best beaches in Bali. Accessible by descending a set of stairs, you'll discover turquoise water, soft white sand and total seclusion that only a handful of beaches in Bali can compete with. Feel the grains of sand against your feet, the cool breeze against your skin, the hypnotic sound of the waves singing around you and connect with the world.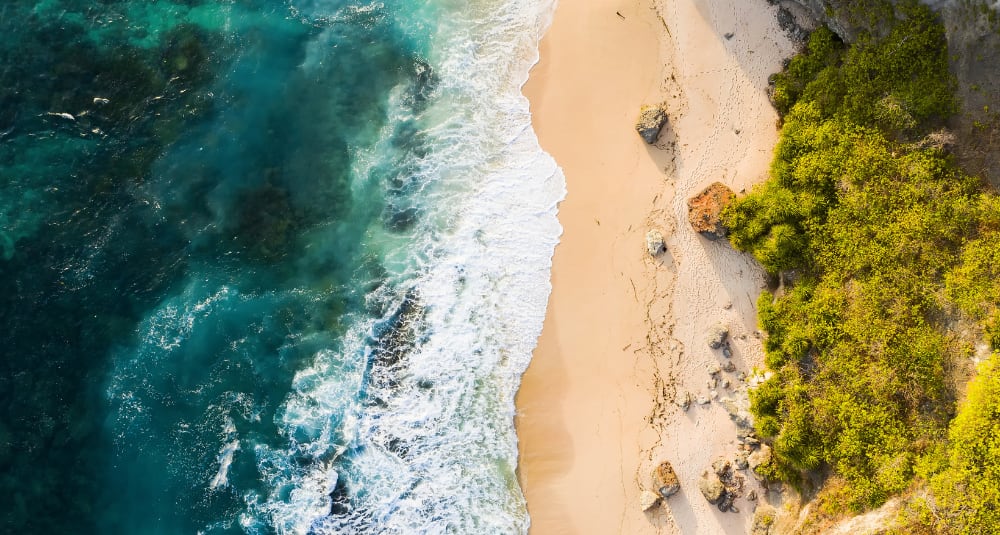 Indulge your spirit of curiosity and explore another oceanic wonder unique in aesthetics. The Tanah Lot Temple is a Hindu temple located on a stunning rock façade by the sea with design queues that combine Bali's historical, natural and cultural elements. A rare sight that reminds you there is much more to uncover in each journey that awaits you.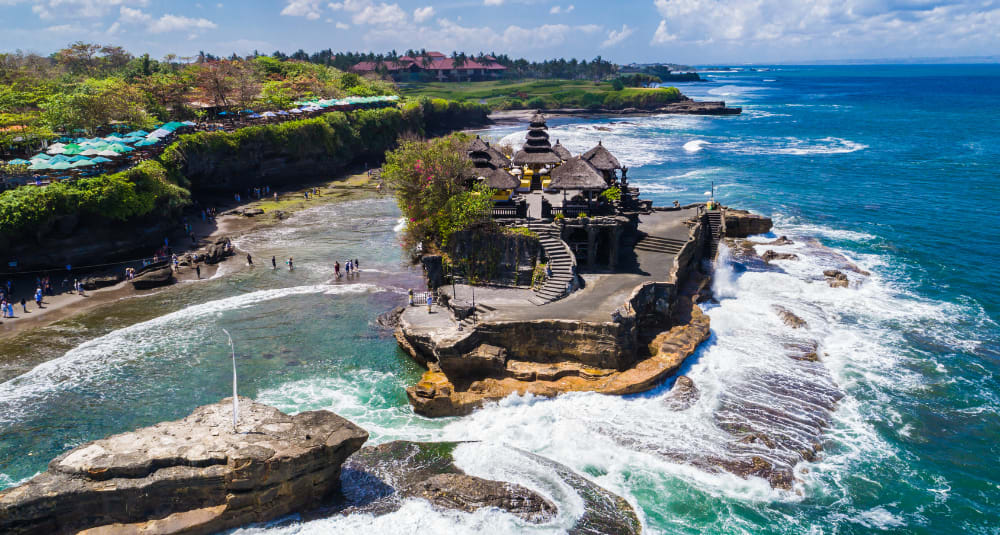 After writing your own chapters of unique explorations, it's time to indulge in Bali's well respected and flavourful seafood selections, from Jimbaran lobster and Barramundi fillet to Lombok clam and whole baby snapper. Try Botol Biru Bar & Grill, a restaurant perched on a cliff's edge at Anantara Uluwatu Bali Resort where fresh catches are served daily, and views of the stunning coast and the picturesque sunset flavour every dish. Relax in bed and reinvigorate your curiosity when you wake up in the resort's suites, villas or penthouses.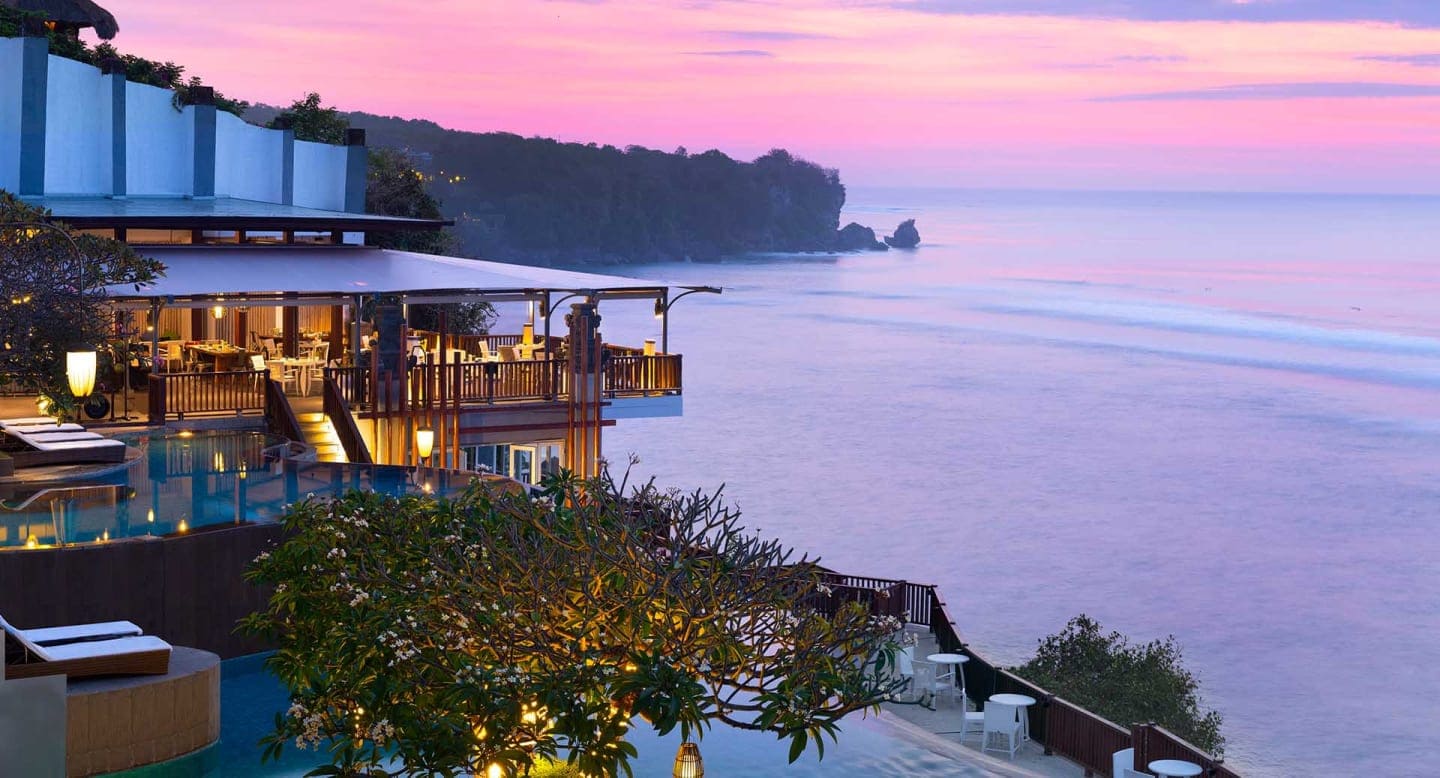 Siem Reap, Cambodia
Siem Reap is a lively city imbued with ancient charms and a small-town feel. While the stunning and spiritual Angkor temples are not to be missed, there is plenty more to explore here. Witness local villagers as they fish using traditional techniques and watch local birds and wildlife in their natural habitat at Tonlé Sap Lake, a UNESCO Nature Reserve and the largest freshwater lake in Southeast Asia with more than 300 species of animals.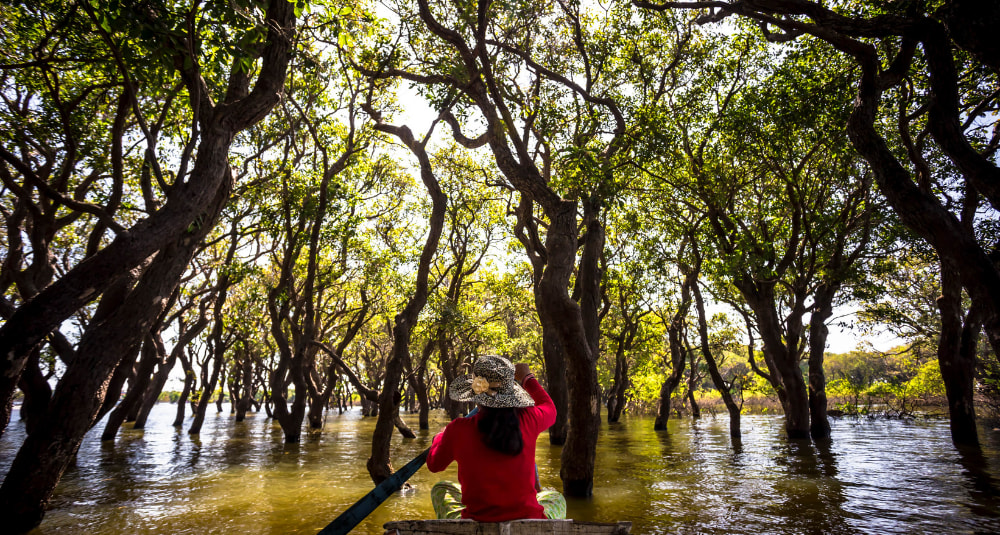 Transport back in time and experience the beauty of Ta Prohm, home to the Bayon temple ruins which embrace an intricate monastic design covered in tree roots, emphasising its age and charms. Stroll along the wooden walkway built around the compound or explore the maze of courtyard as flocks of parrots observe from above.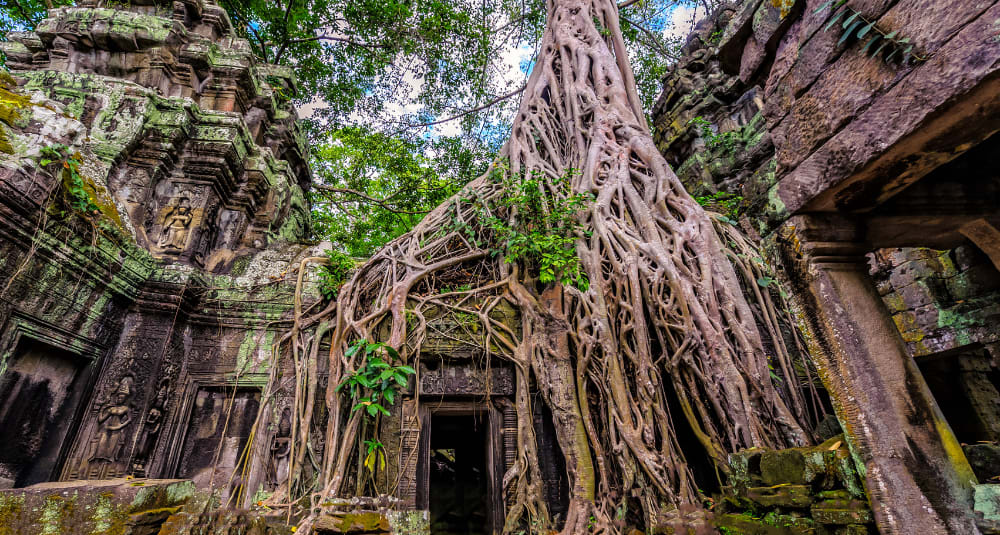 Make sure your experiences at your resort are as wonderful as your adventures outside. At
Anantara Angkor Resort & Spa
, your stay begins with a complimentary airport pick-up and foot massage on arrival. Relax in the largest luxury suites in Siem Reap and enjoy tailored journeys of discovery recommended by our experience butler.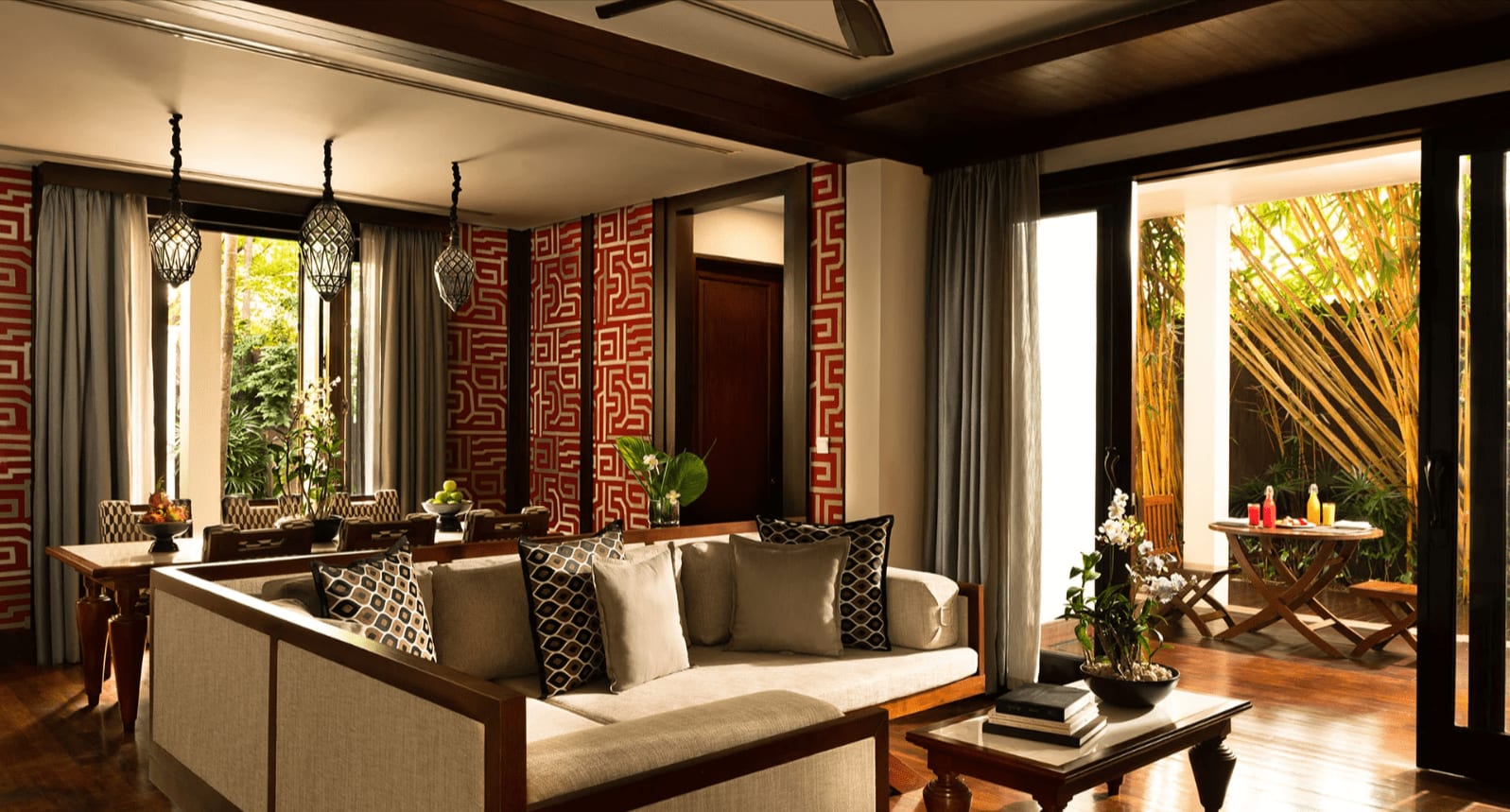 Tangalle, Sri Lanka
Situated on one of Sri Lanka's most beautiful coastlines, Tangalle is a low-key beach destination complemented with countryside attractions and a sense of seclusion you won't find in Mirissa or Galle. Rekawa Beach grounds you in simplistic yet heart-warming rituals such as turtle watching where five species of turtles wander ashore from April to September to lay their eggs. If you're lucky, you might even spot baby turtles making their way to the ocean for the very first time.
Once you've witnessed life at the beach, take advantage of the jeep safari that puts you a few feet away from other wildlife on land such as water buffaloes, wild boar, peacocks and sloth bears. Deciding between Udawalawe or Yala national park? The former is home to wild elephants, deer, jackals and crocodiles while the latter offers more diversity in terms of wildlife such as aquatic birds and the opportunity to gaze at leopards.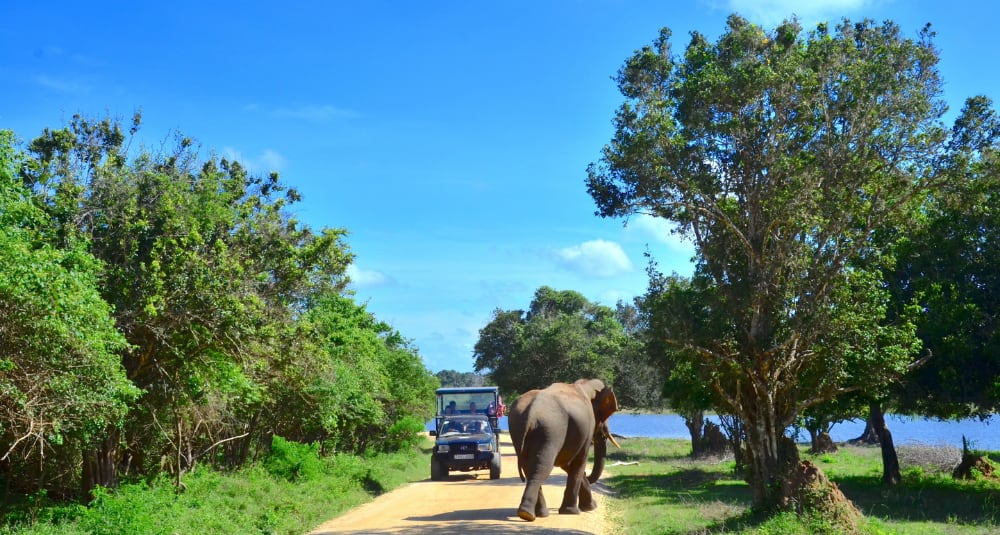 You're in for a treat when it comes to the culinary experience in Sri Lanka as colourful spices take the stage, enhancing both flavour and presentation. Spice Spoons cooking school at Anantara Peace Haven Tangalle Resort delivers a comprehensive and unique cooking experience that takes you to the local market via tuk-tuk where you purchase fresh, local ingredients before heading back to the resort to learn the tips, tricks and recipes focusing on authentic Sri Lankan dishes. Complete your experience with an island stay where you can retreat to a garden villa or wake up to magical ocean views.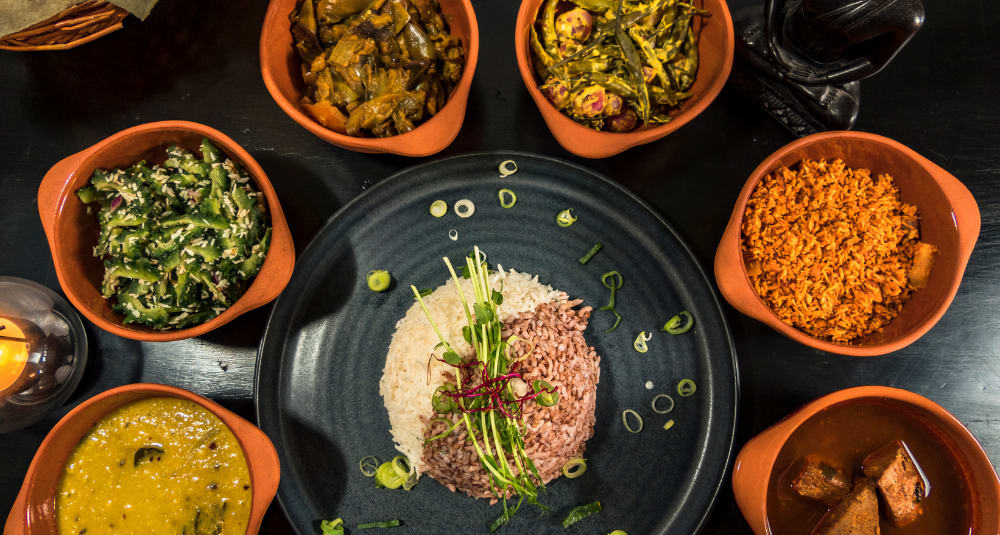 Curated For You
You Might Also Like