Primary content
Mouth-watering Outback tucker
Australia is a sunburnt country, a land of sweeping plains. The Modern Australian cuisine is inspired by the continent's extraordinary landscape and unique flora and fauna. While Dubai might be the last place you would expect to find a world-renowned outback restaurant, Bushman's Restaurant & Bar at the Anantara The Palm Dubai Resort is turning on the tucker for hungry visitors. Having recently taken out the title of Favourite Steakhouse in Dubai's What's On Awards, it has gained a reputation as a unique place to enjoy a hearty meal.
The menu features so many must-try dishes from Down Under it's hard to decide what to order. Moreton Bay Bugs, a speciality from Australia's east coast, are the highlight of a refreshing salad. A char-grilled kangaroo sirloin sees this lean meat cooked to perfection with a flavourful marinade, accompanied by your choice of top-quality Aussie wines. For dessert, watch a pavlova come to life before your eyes as it's constructed on your table and finished with mouse, chocolate, berries, sorbet and cream.
According to Anantara The Palm Dubai Resort's Executive Chef Maurice Fitzgerald, the secret to their success is carefully sourced quality produce and simplified cooking. He believes their range of ingredients and back-to-basics techniques is what makes Bushman's food so enticing.
Chef Maurice shared the secret to their most famous dish, the kangaroo sirloin. The dish could also be made with a good quality cut of beef if kangaroo is not available.
Kangaroo Sirloin with Sweet Potato Fritter
Ingredients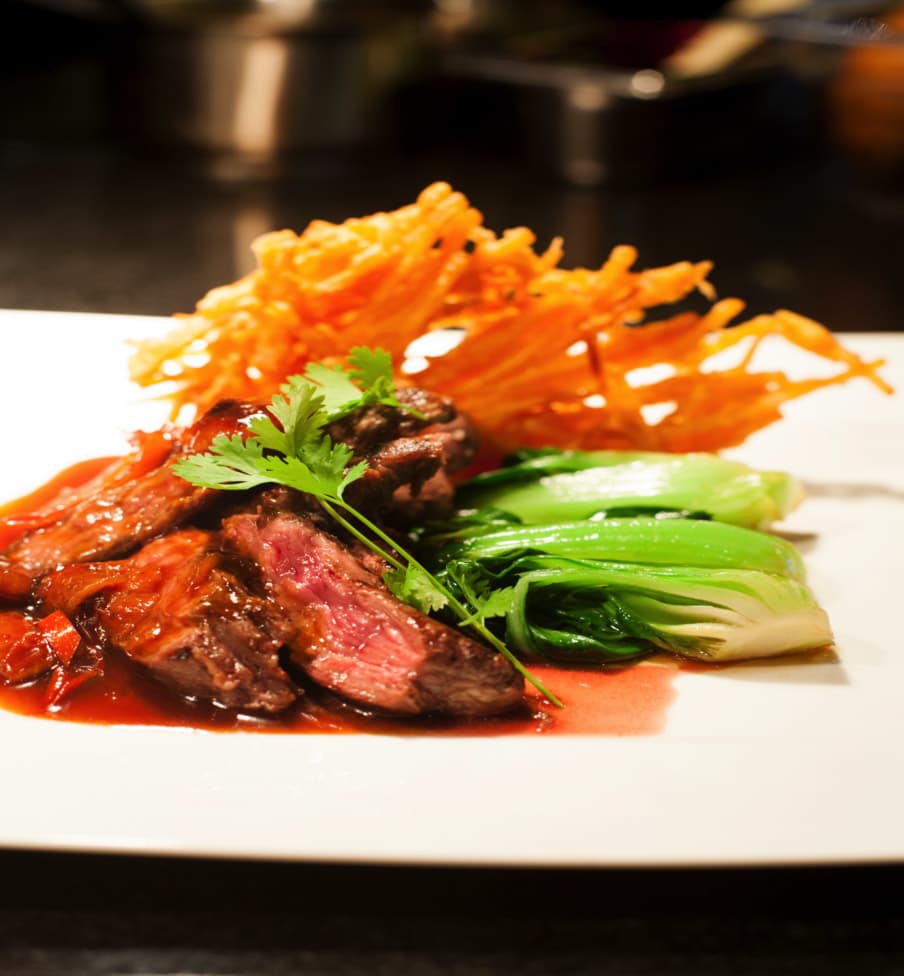 200g kangaroo fillet
60g pak choy
1g red chili
40g beef stock
10g quandong, dried
70g sweet potato, grated
10ml whole egg
1g baking powder
1g salt
40g plain flour
10g butter
2ml light soy sauce
20ml corn oil
Method
1. Mix the baking powder, flour, egg, grated sweet potato and chili for 20 mins.
2. Fry gently in corn oil at 140°C until golden brown. Set aside in a warm place on absorbent paper.
3. Season the kangaroo and char grill until the whole outside is sealed and brown. Finish in a frying pan and roll around in foaming butter until cooked medium rare (or to taste). Set aside to rest.
4. Blanch the pak choy in boiling water and toss with the soy sauce.
5. Deglaze the kangaroo pan with beef stock and finish with chili and quandong.
6. Slice the kangaroo against the grain of the meat and serve with garnishes.