Primary content
COVID-19 Update: A Message to our Guests
Warm greetings from Anantara Veli Maldives Resort.
We are committed to safeguarding guests' safety, health and wellbeing through our 'Stay with Peace of Mind' initiative. We have taken extra measures to reflect the advice and guidance of the World Health Organization, Health Protection Agency (HPA) and the local authority.
To help address concerns you may have regarding your upcoming travel to the Maldives, we have prepared the following guide for every stage of your journey.
TRAVEL TO THE MALDIVES
All tourist arrivals to the Maldives will be provided with a 30-day validity visa on arrival. As part of the visa requirement, you must present the following documents:
- A confirmed hotel reservation of your stay at our resort
- A health self-declaration form must be submitted within 72 hours prior to arrival to the Maldives. This is an online form that needs to be completed via https://imuga.immigration.gov.mv/ethd
TRAVEL TO OUR RESORT
Passengers entering the Maldives are NO LONGER required to present a PCR negative test result upon arrival regardless of vaccination status. Should a PCR test be required by the airline or the destination country on departure from the Maldives and the result be positive then please refer to the quarantine and isolation procedures below.
ARRIVAL AND TRANSFER
Upon your arrival to Velana International Airport, you will be escorted by our airport welcome host to our airport lounge. Complying with COVID-19 protection standards, your luggage will be handled throughout your journey by a dedicated handler and sanitised at every stage.
Every speedboat will be thoroughly sanitised after every trip.

AIRPORT LOUNGE
Physical distancing compliance with lounge seating maintained at a space distance of 1 meter. Guests travelling together as a group will be accommodated in clustered seating, separate from other grouped or individual guests. For your convenience, hand sanitiser points will be available throughout the lounge. We kindly request you to wear your mask whilst in the lounge. Should you require additional masks, the lounge will be able to provide this on request.

ANANTARA APP
Aimed at reducing physical interactions in situations where automated contactless communication is possible, we are pleased to offer the Anantara app available for download on the iTunes or android app stores.
From being able to make a room reservation, viewing details of your itinerary, requesting in-room services, discovering all leisure activities or reading restaurant menus, this app is designed to provide a smooth and seamless experience of your stay at our resort. It will also allow you to check in and check out, with the ability to review your billing portfolio and make the final bill payment though the app. Its live chat functionality will also allow for multiple third-party platforms such as WeChat, WhatsApp, Telegram, Line and more.
RESORT MEDICAL SERVICES
Our resort doctor and nurse are on call 24 hours, daily. Consultation, examination, and basic medication will be provided complimentary for all guests. In situations requiring further medical attention or a referral case, including and not limited to laboratory testing and transfer to a government medical facility, the costs of these will be charged to the guest's account.
PCR TESTING FOR INTERNATIONAL FLIGHT DEPARTURE
Should you be required to present a PCR test result as part of your international flight departure requirements, our resort can facilitate this process.
We have partnered with 3 private hospitals in Male city to provide this service at USD 60 per person per test. Advance notice of 72 hours prior to the departure date is required. The test results will be provided within 24 hours and sent by email.

STAY WITH PEACE OF MIND
We are committed to safeguarding your health and wellbeing during every moment of your stay.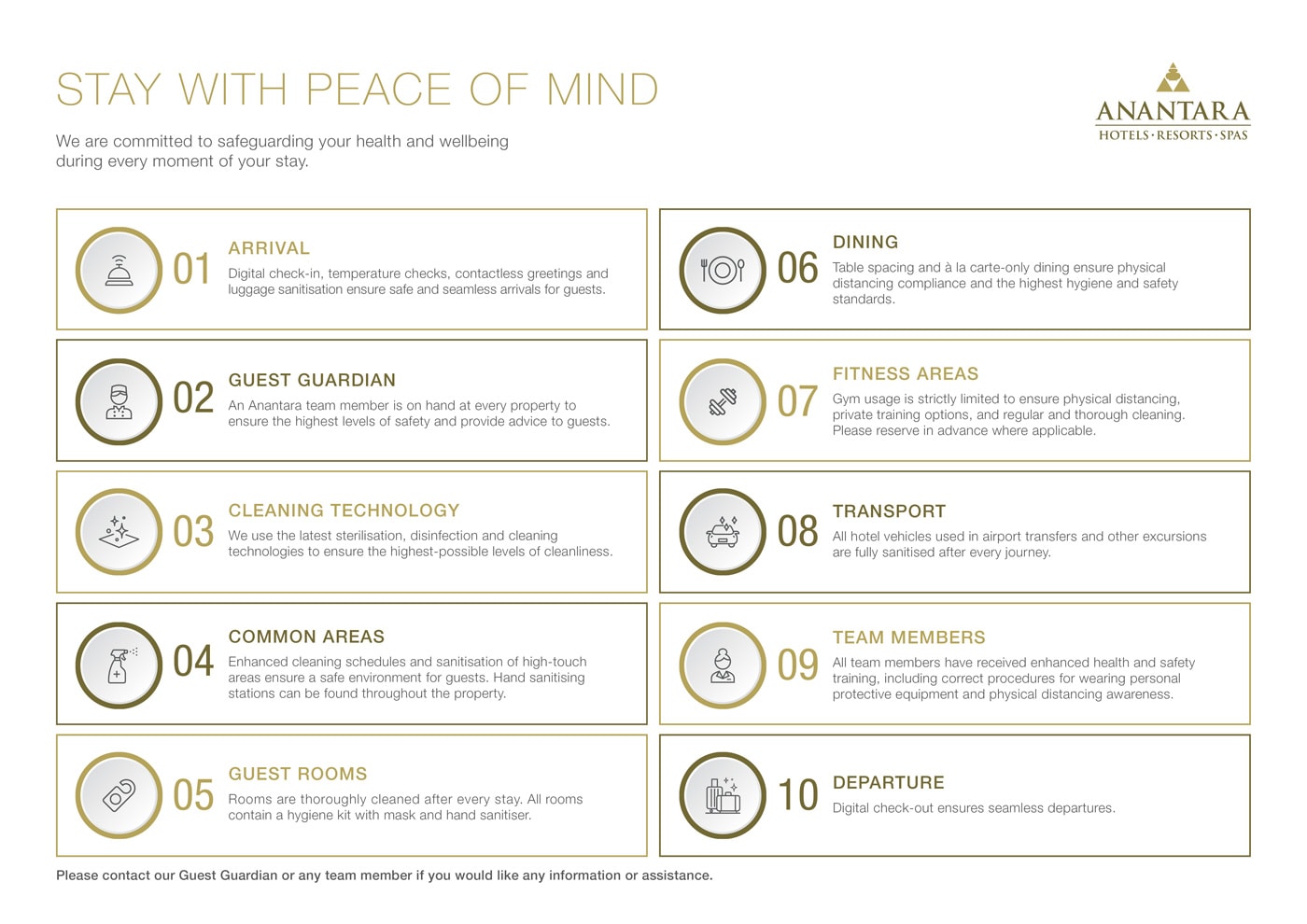 HEALTH PROTECTION AGENCY (HPA) REGULATIONS
In accordance with local regulations issued by the Ministry of Health, passenger arrivals into the Maldives may be screened for COVID-19. Passengers displaying symptoms may be required to undergo testing at the discretion of the HPA. In accordance with the law, we are required to report all suspected cases to the authorities for further testing to be conducted.
ISOLATION PERIOD
Guests who test positive and are symptomatic or asymptomatic will be isolated in the resort for 7 days from the date of sample collection. Guests who exhibit COVID-19 symptoms at the end of the isolation period specified are required to continue their isolation until 24 hours after symptoms have cleared.
The isolation period specified above will come to an end upon submission of a Negative Antigen Test done at the end of the seventh day of isolation from the date of sample collection.

Guests who are identified as being in direct contact of a positive case and who have completed the prescribed dose(s) of COVID-19 vaccine but asymptomatic, are not required to observe a quarantine period. However, if symptomatic, guests will have to take a PCR test or a Rapid Antigen Test and can only be released upon receiving a negative test result. This quarantine will be in a separate location to the individual who has tested positive.
Guests who are identified as being in direct contact of a positive case and quarantined separately from the positive case will have to be in quarantine till the positive case of COVID-19 completes their isolation period.
Guests who are identified as being in direct contact of a positive case will have to do an additional PCR test after 5 days from the date of last contact with the said positive case.
The quarantine period above can come to an end upon submission of a negative PCR test done at end of isolation period of the positive case of COVID-19.
If a child under 12 or any guest that is not eligible for vaccination of COVID-19 are placed under quarantine with a vaccinated guest who can avail the fifth day test, they may submit a special request to the resort for the release of the child/individual.
ACCOMODATION
Quarantine/isolation periods will be spent at the resort in a private villa. A special accommodation rate will be afforded to the guests at $350.00 per room per night on a full board basis, excluding alcohol. Guest should take into consideration that the processes mentioned above can mean a separation of individuals meaning more than one villa will be required to be used. This will depend solely on the individual circumstances at the time.
Whilst it is regretful that your vacation plan may be interrupted, your health, safety and wellbeing remain our upmost priority and we are committed to ensuring that you receive access to the best possible medical care and facilities for recovery.
In the unfortunate event of a demise resulting from COVID-19, HPA regulations does not allow for repatriation of the body nor cremation. Burials will take place at Hulhumale.
Warm Regards,
Michael Parker
General Manager