Primary content
Surfing at Anantara Veli Maldives Resort
Anantara Veli Maldives Resort has its own wave breaking right onto Dhoni bar and you can access it from land by walking down to the jetty and paddling out.

Explore a variety of waves while surfing in the Maldives, from peeling, playful rights to down-the-line left barrels around the resort with the furthest break to be a thirty-minute boat ride away from the resort.

Tropicsurf operates exclusively from neighbouring resort, Anantara Dhigu and offers expert guidance, water safety and coaching tips. One of the advantages of surfing from Anantara Veli is the wide range of experiences on offer, which cater to any level, from beginner to advanced surfers.
Programmes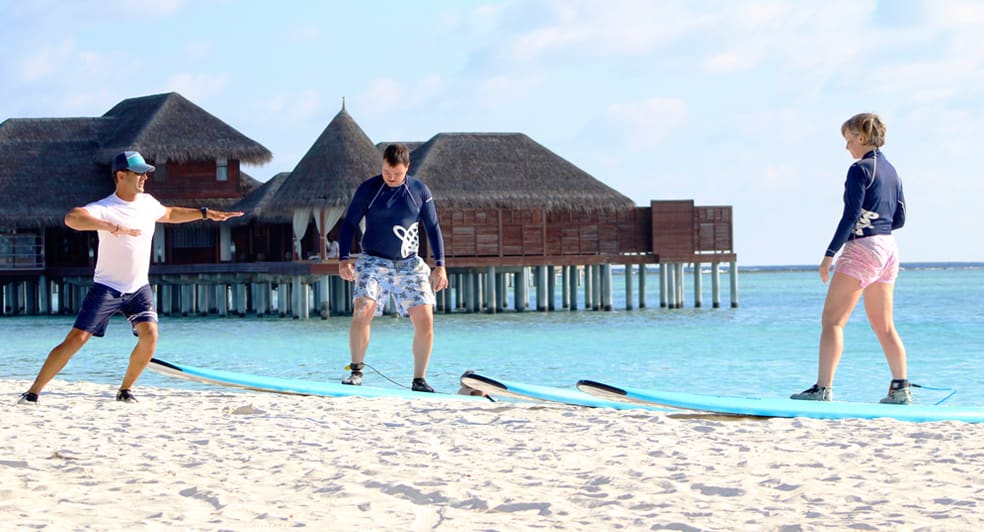 Lagoon Lesson
If you're a novice, try a "Dream" lagoon session where you'll learn the basics of surfing within the safety and comfort of the resort lagoon. Close by, there is a dreamy beginner wave named "Henry's", perfect for those looking to catch their first wave.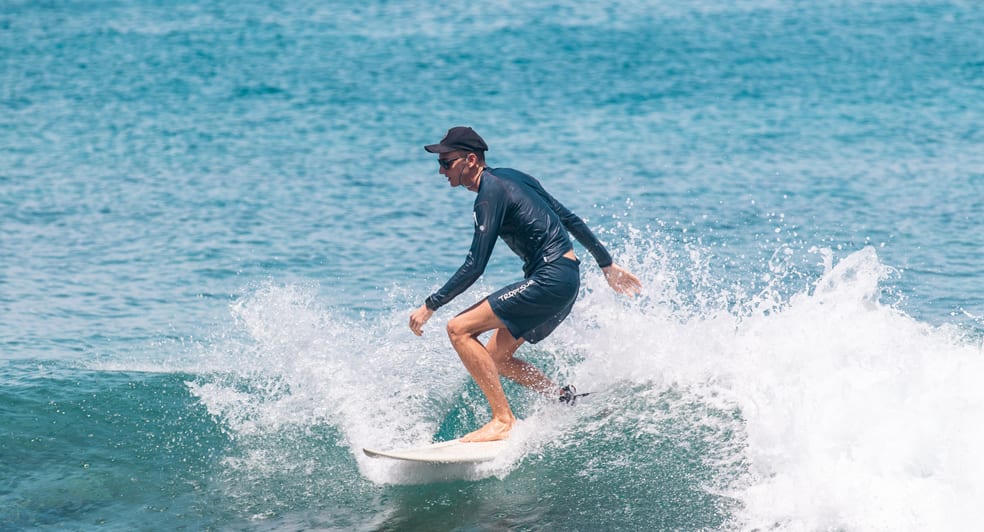 Ocean Transition
For something a little more challenging, nearby break "Nonyas" offers long peeling, rides with easy, mellow take-offs. This is the perfect spot to hone your newfound skills and is considered by many surfers to be their nirvana.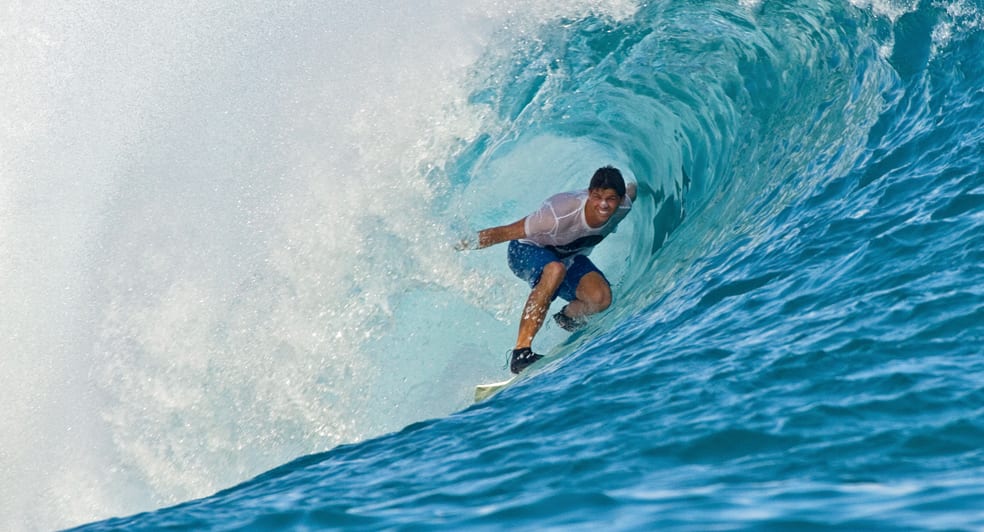 Ticket to Ride
Further afield, "Boatyards", a surf break just ten minutes away from Anantara Veli, is a perfect left that is extremely hollow, providing some of the best waves in the Maldives. Pick one with a nice roll in section and set up your line for what could be the wave of your life.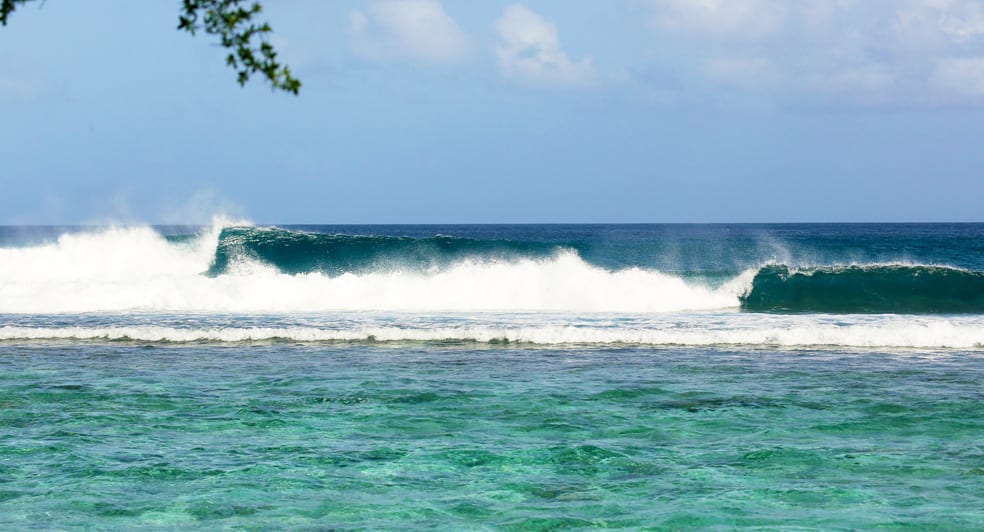 Veli Left
Advanced surfers need to look no further than the left-hand reef break of Veli, a popular choice given it breaks directly in front of Dhoni bar. You can access it from land by walking down to the jetty and paddling out.
Access to the Veli left is complimentary for all in-house advanced surfers when travelling with their own equipment.
Surfing Season
Surfing Season
Tropicsurf operates from the neighbouring resort, Anantara Dhigu Maldives Resort year round. However, April to October is considered the surf season in the Maldives. Swell size in the off-season months may vary and won't be ideal for a serious surfing vacation. As surf season starts, the swell direction changes and swell size and consistency normally increases. Waves are usually chest-high and may reach to a little overhead.
Surf Guru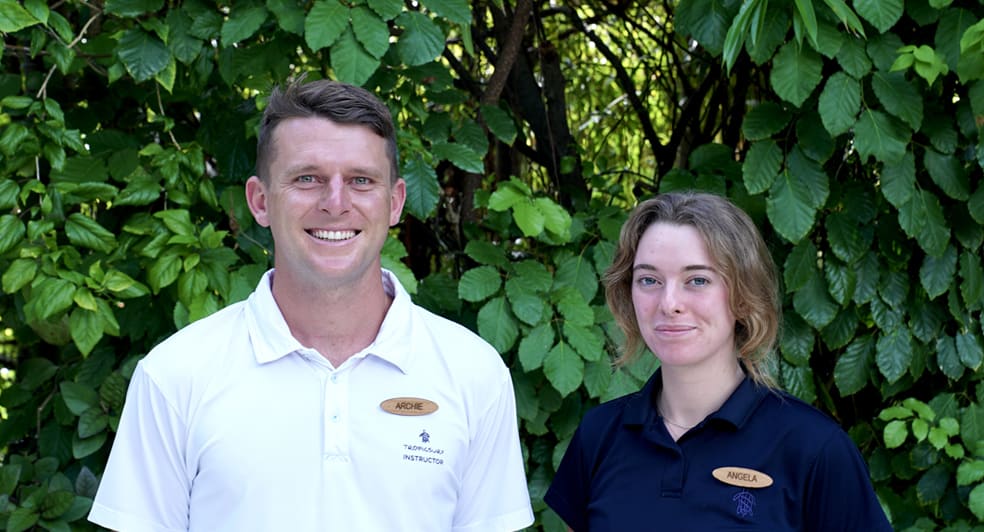 Angela and Archie
Angela and Archie hail from the seaside towns of North Devon, United Kingdom. Archie grew up surfing and life guarding the busy beach breaks in the area. His passion for the ocean flew him around the world to warmer destinations and some of the most renowned surf breaks on earth. Archie's best qualities are his patience, logical coaching and love of surfing, making him your perfect water companion! Together with Angela they have toured the world with Tropicsurf before deciding to settle down here at our surfer's haven.