Primary content
Yacht Sunset Cruise Wedding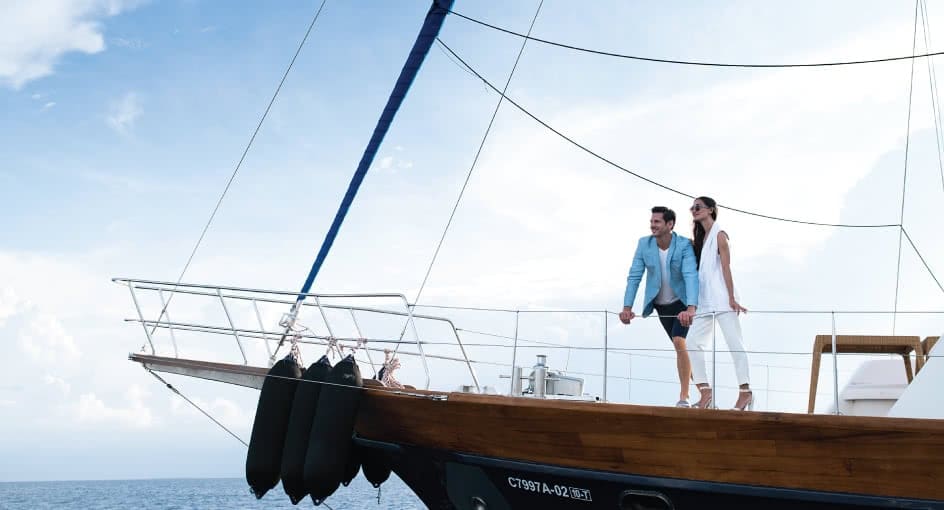 Set sail for married life aboard a luxury private yacht, sharing a voyage of discovery together across the Indian Ocean. Vows are shared with the soothing sounds of gently rolling waves behind.
Set sail into your future, with wedding rings presented on deck in a beautiful shell and exchanged as the sun sets. Cut your exquisite wedding cake, created by a personal chef, and share a wine dinner that is tailor-made just for the two of you. Retire to your romantically decorated room and awaken to your first glimpse of the sunrise, before enjoying a Champagne breakfast in bed, on the deck of the yacht or on a secluded sandbank. Leave with memories of your journey in a paradise of endless blue, and reminisce with wonderful moments captured on film.
Package includes:
Facial treatment, hair styling and make-up for the bride by our beautician
Sunset cruise ceremony with floral decorations
Maldivian 'Bodu Beru' drum performance and exchange of wedding rings presented in a shell
Wedding photo shoot
Romantic personalised five-course dinner with one bottle of wine and two glasses of Champagne
Wedding cake prepared by your private chef with one bottle of Champagne
Overnight yacht stay with exclusive newlywed set-up
Sunrise Champagne breakfast either in bed, on deck or on an idyllic sandbank
Package Price: USD 12,527
Terms And Conditions
Rates are subject to 10% service charge and 12% GST.
The wedding ceremony is only symbolic in nature and is not legally valid.
Wedding and ceremonial arrangements can only be finalised after a minimum stay of two days at the resort to ensure preparation is sufficient.
Wedding bookings must be booked at least two weeks in advance of the arrival date.
Wedding package rates are not inclusive of accommodation or meal plans.
Wedding rings and bridal gowns will need to be supplied by the bride and groom. Alternatively, traditional Maldivian garments are available for hire in Male.
Cancellation policy applies.