Primary content
Escape to the Golden Triangle
Discovery
18 December 2017
If you've ever wanted to escape frenetic modern life and clear your head, there's few places more remote and more peaceful than the Golden Triangle. A unique region where the borders of Thailand, Laos and Myanmar meet, it's home to the Anantara Golden Triangle Elephant Camp & Resort - a destination hidden amidst lush jungles that's remote enough for you to completely escape, and yet with every modern luxury possibly imaginable at your fingertips.
Set on 160 acres of bamboo forest and rice paddies, you'll be sharing your tranquil stay with around 20 elephants who live on the resort's grounds. These elephants have been rescued from Thailand's city streets and relocated to the Elephant Camp - along with their entire mahout families. It's a fantastic place to learn about the lifelong bonds formed between mahouts and elephants, and observe life in a traditional Thai village. Through the veterinary staff who work with these gentle giants, you have the opportunity to discover more about elephant biology and the fascinating research they're conducting into their social interactions. You're even invited to join the mahouts and elephants on a magical morning stroll amongst the misty mountains. Walking alongside and interacting with these highly intelligent animals is a monumental and humbling experience.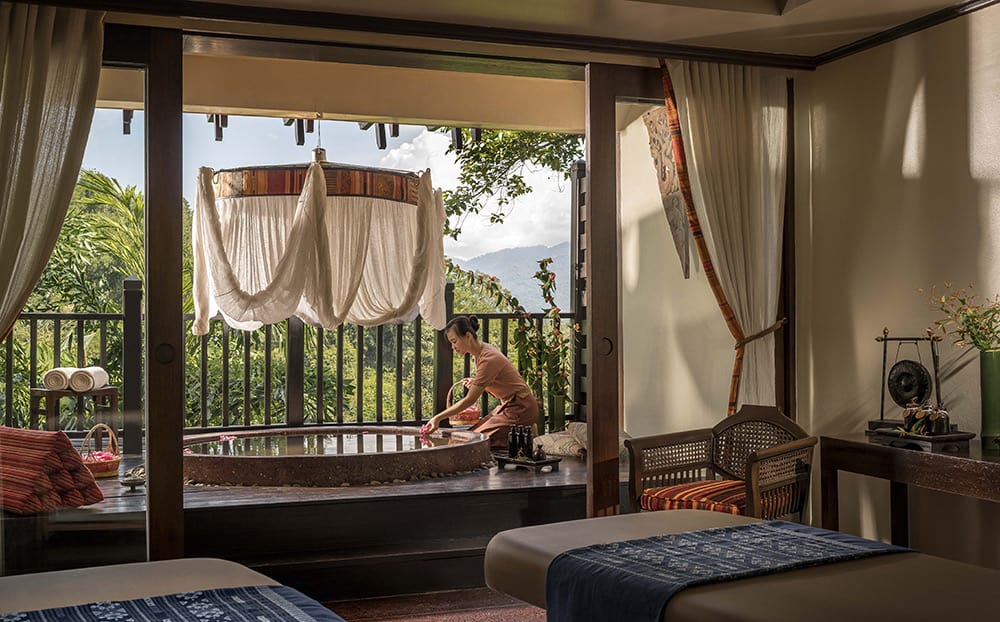 To truly unwind, enjoy a luxury pampering at Anantara Spa. Select from a range of massages, scrubs, wraps, facials, manicure and pedicure treatments, as you take in unhindered views of the sprawling countryside. Feel every worry slip away as your mind and body are liberated, and you indulge in tranquility to relax, restore, and revive yourself.
For those feeling a little more adventurous, you can also embark on an expedition to the three bordering countries and explore the unique local lives. Visit a traditional market, see local blessings held at ancient temples, and witness how the local people truly live. Explore the destination by tuk tuk, and traverse the Ruak River by longtail - all with an expert tour guide to make border crossings a breeze and share fascinating stories and history.
A journey to the Golden Triangle is an unforgettable experience. Worlds away from everything you know, you can reconnect with nature in a lush setting, bond with beautiful and awe-inspiring elephants, bring balance to your body and mind, and experience traditional cultures first-hand. You'll return to your everyday life a changed person, with a new serenity that will help you find your happy place.