Primary content
Discovering the secrets of Quy Nhon, Vietnam
Discovery
22 November 2018
Why aren't you back to Vy Hamlet
To watch the sun rising over the areca trees?
Whose garden is so lush in jade-like green
And bamboo leaves cover whose firm square face?
When Vietnam's favourite literary son and one its most celebrated poets Han Mac Tu (1912-1940) wrote these lines, Quy Nhon - where the poet found his final resting place - was but a sleepy fishing village. Fast forward to 2018 and it's a thriving coastal town that somehow, despite its primordial beauty and a plethora of cultural attractions, managed to avoid falling into the traps of mass tourism and preserved its pastoral charms.
As we step out of Quy Nhon's spanking new international terminal, squinting in the blinding sun and half expecting a crushing tide of motorbikes we've come to associate with Vietnam, it's blissfully quiet, with birdsong languidly floating in honeysuckle-scented air.
In the limousine on the way to Anantara Quy Nhon Villas, greedy fingers rooting in the packets with guilt-free local snacks (all-natural candied ginger and curling coconut strips), we are craning our necks to get a better look of the towering ruins of the red-brick Champa temples crowning a nearby hill. The following day at sunrise, we are told, the architectural marvel will be the site of our morning yoga session.
It's an easy 40-minute ride from the airport to the new Anantara Quy Nhon Villas, and as the road snakes along the coast we are treated to panoramic views of pristine bays – parallel lines of glistening sand and surf running undisturbed for miles, not a soul in sight; farmers skillfully balancing everything from livestock to jackfruit to bamboo poles on the backs of their motorbikes; tiny fishing villages coming into view and disappearing in a flash around the bend.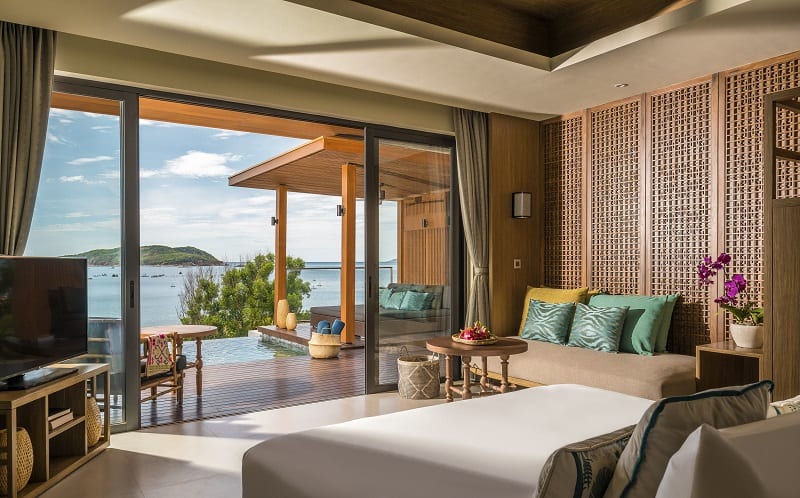 Before we know, we are pulling into Anantara Quy Nhon driveway, 26 villas with their private pool decks and gardens cascading among lush tropical foliage into a private bay with dramatic rocky formations jutting from powdery sand.
On the way to our cliffside villa (the ones on the beachfront are also lovely; however, we prefer a high perch) we spy a group of hotel guests engaging in a spot of thai chi and make a mental note to sign up for a martial class with resort's black belt master. Binh Dinh province is known as the cradle of Vietnamese martial arts; a proud fact that is commemorated in a collection of curious statues honouring local sporting legends on Quy Nhon's waterfront promenade.
Lounging poolside in our villa, perusing an inventive in-room dining menu featuring everything from humble street food to lobster, we opt for a selection of local seafood dishes. With a dedicated butler, a wine cellar and a daily restocked deli, it's tempting to stay in this voluntary seclusion and spend your days lolling in the ocean breeze on your private patio. But we are here to explore and adventure beckons.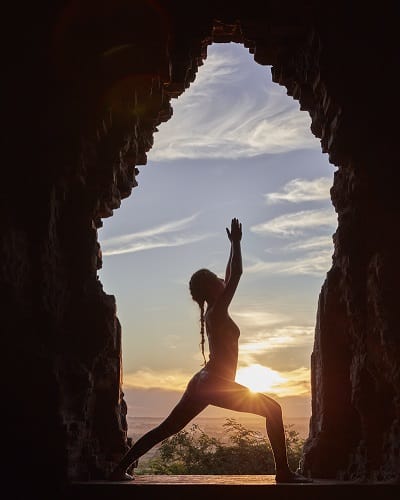 Anxious to soak up as much local culture as possible, we challenge our butler to map out an itinerary that covers history, culture, crafts, food and architecture yet allows for some downtime too. The resulting programme is ambitious. We are to start at sunrise with a hilltop yoga and meditation session - a scenic Champa temple as the backdrop - before tucking into a hearty breakfast of Vietnamese drip coffee and rice noodles at a local café. Our next stop is the Binh Dinh province museum packed with archeological artifacts and revolutionary memorabilia and completely devoid of tourists - a rare treat after jostling for elbow space in museums of Saigon and Bangkok.
Added to the itinerary last minute on an inspired whim by our tour guide, we make a stop at a meticulously restored Catholic church dating back to the colonial era and at a centuries-old Buddhist pagoda, making way on approach for a gaggle of apprentice monks energetically pedaling their bicycles. Both venues are delightful and very much off the beaten track.
Our driver expertly navigating narrow paths cutting through emerald-green rice paddies, we reach our final destination – a house-cum-workshop of a local hat-maker whose family has been in the business for generations. From the stately patriarch whose intricately embroidered conical hats fetch hundreds of US dollars a pop to impish grandchildren just starting to learn the ropes, everyone has a role to play. Our hapless attempts at hat-weaving elicit good-natured laughs even as we thoroughly enjoy the surprisingly meditative experience.
Upon return, we retreat to Anantara spa's decadent tree house to shamelessly pamper ourselves with coconut milk bath soaks, deep-tissue massage and chakra crystal balancing. From the cliff, we can just spot the twinkling lights of Quy Nhon skyline mirrored in the ebony waters of our little bay where the lights come up on the fishing boats and lobster trapping platforms. As our eye catches a fishing boat stubbornly hovering just over the gleaming face of the liquid moon, we can't help but wonder if the choice of anchorage is accidental. Or as Han Mac Tu much more poetically put it "Can it lug its load of moon back tonight?" Can it indeed.
Curated For You
You Might Also Like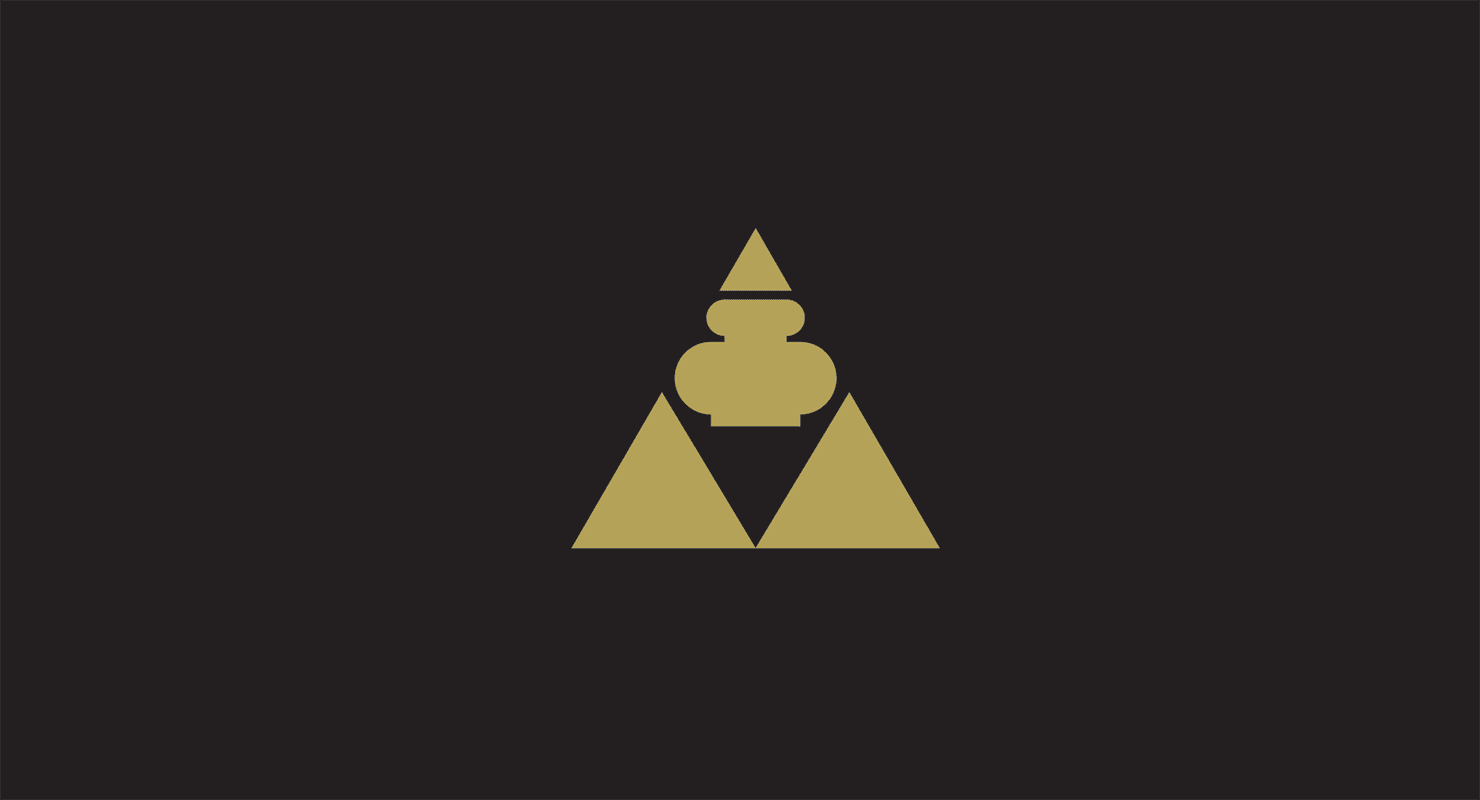 The East Sea coastline of Vietnam remains unexplored and lush. With now daily flights from Ho Chi Minh City, Hanoi and Hai Phong into the local airport, Anantara Quy Nhon Villas offers the perfect luxurious base from which to explore. Discover ancient Cham ruins rising up out the jungle. Set out on fishing adventures in one of the round coracle boats that famously dot the horizon. Return to your private villa for pool bliss and gourmet street eats served by your butler.