Primary content
Relax, Rejuvenate and Reinvigorate at the Best Anantara Spas in the World
The desire to relax, rejuvenate and reconnect physically and mentally, is second nature to us all. Because of this, the very best spas in the world are frequented by experience seekers, adventurers, globetrotters, spiritual enlighteners and everyone in between. Offering more than a space to unwind but also a sense of place, a welcoming escape and a retreat of authentic and local traditions, we've rounded up some of the best Anantara spas from around the world to satiate the needs of anyone looking for a harmonious getaway.

Overwater Haven Elated by Shades of Blue
Enveloped by the azure views of the endless Indian Ocean, the over water spa at Anantara Kihavah Maldives Villas offers transformative world-class treatments crafted with healing properties from indigenous plants and fruits. From the region's only Cocoon Medical Spa featuring restorative facials, Vitamin IV Infusions and other detoxification therapies to the ancient Ayurveda treatment – a 5,000-year-old natural healing technique that offers pathways towards health and harmony with holistic treatments, our Maldivian spa and Masters of Wellness are here to help you discover a holistic range of customisable experiences that will rejuvenate, transform and awaken your senses.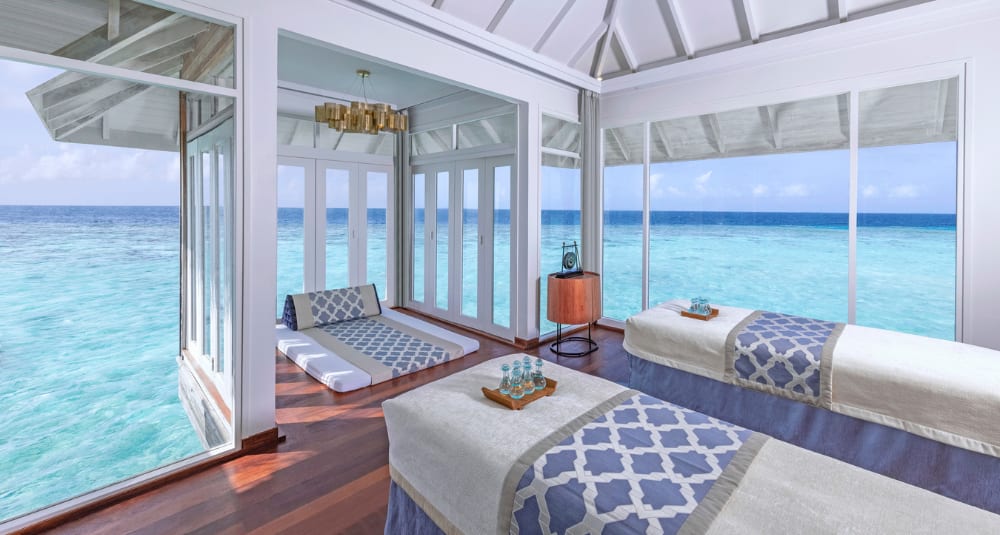 For a deeply relaxing massage designed to help you reconnect with your significant other, try our signature treatment, Reigniting the Spark (180 minutes), which is a soothing head-to-toe massage that utilises fresh indigenous ingredients and exotic scents of signature oil blends. Toast to the completion of the journey by heading to the overwater relaxation deck and enjoy chocolate-dipped strawberries and a glass of champagne.

Hidden Sanctuary Complimented with Rattan Charms
Tucked within the beachside escape that is
Anantara Quy Nhon Villas
is a jungle retreat that greets visitors with a path through the tropical jungle to a clearing fringed by ferns. A natural sanctuary awaits where the fragrance of lemongrass and ginger lingers in the air. Step inside and discover a range of curated wellness journeys and customised programmes, including but not limited to Reiki healing, our signature East Meets West Massage, facial treatments and yoga. Featuring three cliffside treatment pavilions, a Thai massage pavilion overlooking the ocean, a couple's treatment suite, a tea lounge and a yoga and meditation deck, the jungle spa is designed to pamper and heal guests from head-to-toe.
One of our signature treatments, Journey of Vietnam (210 minutes), starts with a milky coconut bath overlooking the serene ocean. Eastern and Western massage techniques ensue, complemented by meridian line oil which soothes muscle tension and melts all your stress away. A facial massage using micro hyaluronic acid and botanical extracts to encourage optimum cellular function for nourished, younger looking skin completes the journey.

Tranquility Amidst Lush Greenery

An otherworldly hideaway spread over 3,000 sqm of lotus ponds and garden awaits at Anantara Bophut Koh Samui Resort. Designed by award-winning architect Bill Bensley, the spa features six standalone garden treatment suites which provide private oases of healing, private al fresco tubs and rain showers, couple's spa suites and a beauty salon. Treatments are customisable to our guest's individual needs and range from massages enriched by indigenous island ingredients, herbal steam, warm compress, sunken tub soak with frangipani, myotherapy and more. Multi-day wellness retreats are designed to revive the body and include a comprehensive range of treatments such as personal training in the morning combined with detox juice, treatments during the day and healthy cuisines throughout the journey.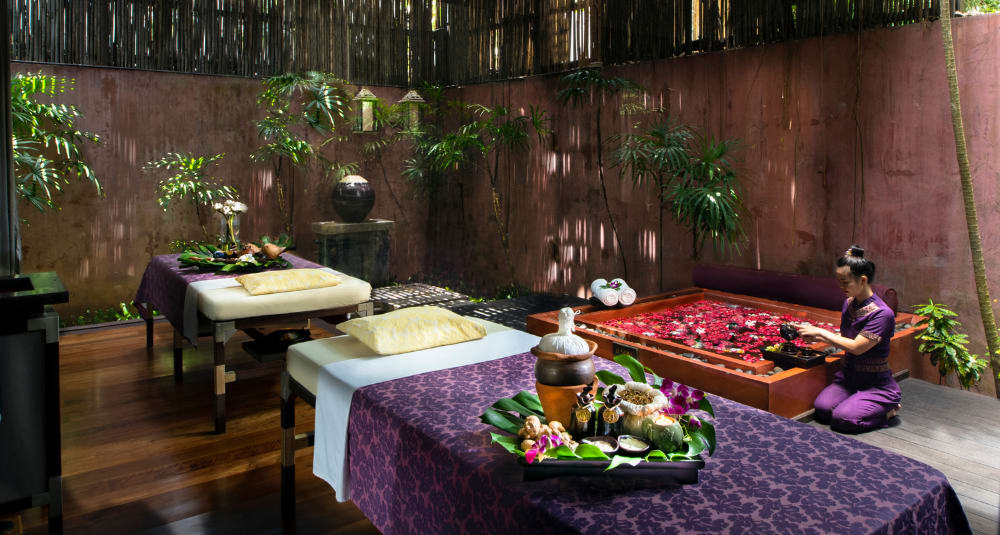 Choose from our signature spa treatments or opt for Journey of Siam (200 minutes), a spa treatment designed to help you rediscover your inner strength and vigour starting with a floral foot massage, Thai herbal steam, Essence White Coconut Scrub, a Royal Thai Massage and a refreshment.
Jungle Serenity meets Lanna Beauty
At
Anantara Golden Triangle Elephant Camp & Resort
, guests are greeted by the rare sight of classic, Thai Lanna architecture, known for its teak material, floral wooden screens, ornate structures and Buddhist motifs. The spa still holds true to that design and features a three-storey, open-air pavilion that greets visitors with the scent of lemongrass. The spa menu draws on centuries of northern wellness tradition and indigenous, medicinal ingredients. With teak wood suites that overlook the Golden Triangle and a lush rice paddy pavilion, guests can unwind with a traditional Thai massage, a milk bath, a Cannabis Healing programme and other treatments in absolute bliss.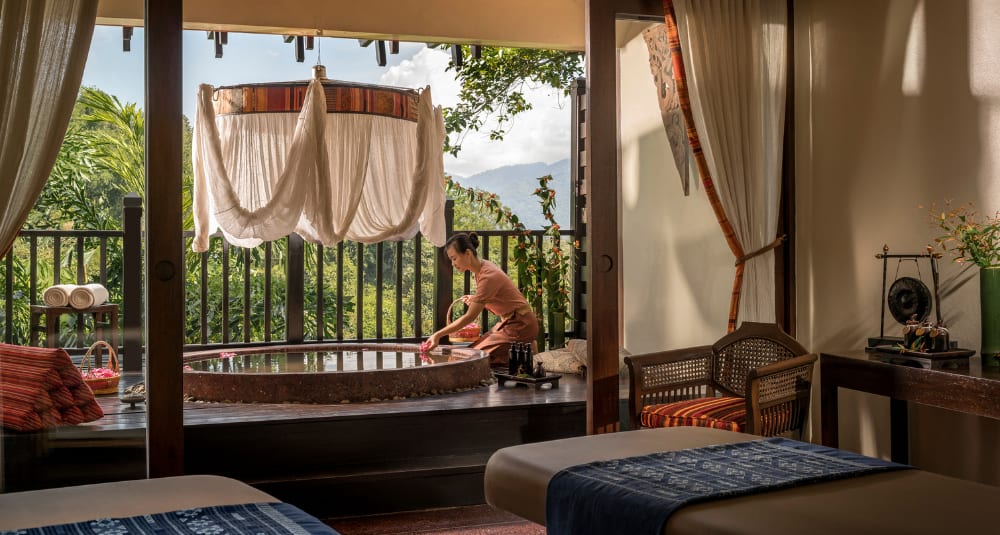 For those interested in the signature spa treatment, the Lanna Experience (180 minutes) will not disappoint. Enjoy a floral foot massage, a body scrub and body wrap using poo loey, a ginger species revered for its ability to combat joint and muscle ache and cool inflammation. Cool down with a shower and enjoy a poo loey massage followed by an herbal refreshment.

Wellness Oasis Among the Dunes

Combining Middle Eastern remedies and Thai expertise, the spa at Qasr Al Sarab Desert Resort by Anantara embraces the gifts of the desert to pamper your mind, body and spirit. Focusing on natural ingredients such as rose, rhassoul and argan oil, guests are taken on a journey of authentic Moroccan wellness, including but not limited to a hammam, Arabian oil massages, facials and full body restorative treatments. Five luxurious treatment suites are available for individuals and couples, including a relaxation area that puts you front and centre to the expansive views of the desert. Steam rooms, an ice room, jacuzzis, and a wellness centre that hosts private yoga classes led by international yogis are not-to-be-missed.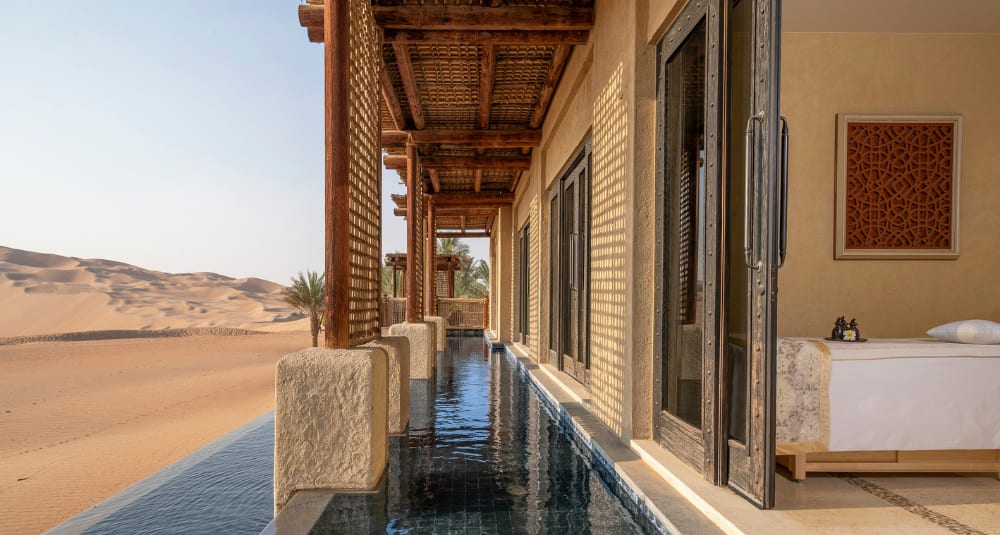 For guests looking for a full body soothing experience, the signature Arabian Ritual (120 minutes) treatment starts with a floral foot ritual followed by an indigenous Arabian dates and coffee scrub which moisturises and softens the skin. The ritual continues with an Arabian massage using traditional techniques to stimulate blood circulation and ends with a relaxing head and scalp massage that sets you adrift on peaceful bliss.
Curated For You
You Might Also Like