Primary content
Bangkok by night - a field guide
Bangkok by night - a field guide

The glittering city of Angels has so much to do by night-more, arguably, than by day-that it's necessary to narrow things down a bit. As the city continues to spread and sprawl, neighbourhoods and enclaves have begun to develop their own identities, popping up places to eat, drink and discover, so that exploring one at a time is a great way not only to get a proper feel for the area but also helps you avoid feeling overwhelmed with all the options.
Come on a little tour through some of our favourite districts and get a flavour for what's in store:
Leisure by the river

The mighty Chao Phraya, was integral to the building of Bangkok's old city, but nowadays as the commercial centres take the buzz of business eastwards, the River of Kings can flow at a more stately pace and exploring its banks can be a relaxing affair. Here, beautiful hotels stand riverside and side-by-side with outdoor malls perfect for strolling. Night markets are tucked in backstreets behind ancient temples, whose golden reflections sparkle in the water. Meanwhile the Charoenkrung neighbourhood that runs parallel with the Chao Phraya's east bank is becoming a breeding ground for new and innovative restaurants and live music spots.
Cultural discoveries in the old town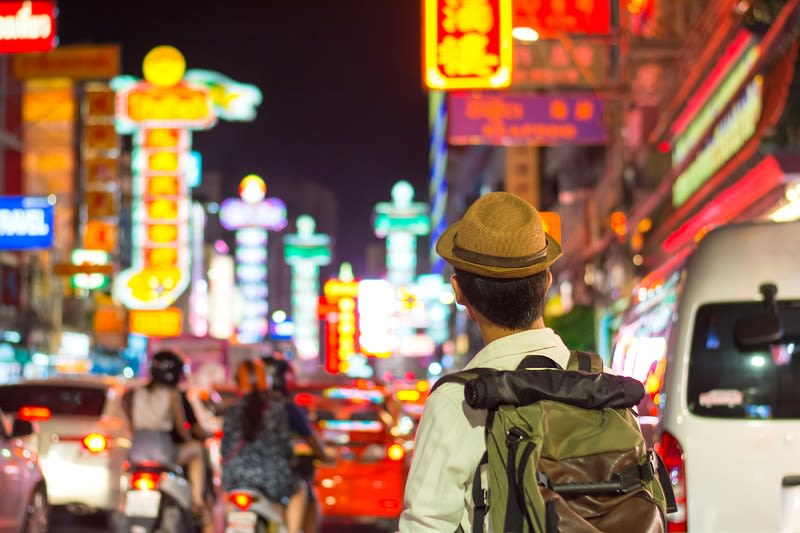 North of Charoenkrung, Bangkok's old town is also experiencing something of a renaissance. Just down the road from the historic dome of Hua Lamphong central station, Chinatown remains a honking, sizzling, neon-lit haven for street food, souvenir shopping and Chinese temple exploring. Amongst all the history, though, a raft of craft cocktail bars and art galleries have begun taking over retro shophouses, making the area simultaneously hot and cool, and ripe for treasure hunting.
Leafy local life in Sathorn

Once a vast canal, Sathorn road stretches from the river east all the way to gorgeous green Lumpini park, which is at its most perfect just before sundown. Stroll past the ballroom dancers on the bandstand, spot monitor lizards basking in the lake and enjoy a little peace before you plunge into the backstreets of Sathorn, to discover little self contained enclaves of leafy residential sois sprinkled with restaurants serving world-class, and overlooked by soaring rooftop bars.
The spectrum in the centre

Siam and its surroundings is both literally and figuratively an intersection. Here, at the junctions of some of the city's busiest roads, you'll find everything. Glittering malls are packed with designer stores, luxury cinemas and state-of-the-art bowling alleys complete with private karaoke rooms. Historic buddhist shrines teem with devotees burning incense, as dancers perform their fluid choreography in traditional dress. Meanwhile, just a stone's throw away lie both the cool and calm of the lush green sports club, and the late-night debauchery of Bangkok's more notorious neighbourhoods.
No sleep in Sukhumvit

So packed is Sukhumvit with night-time diversions, that's it's almost necessary to break it up into neighbourhoods of its own. Indeed, almost every skytrain station marks another pulsating artery diverging from the main vein. From the bars and clubs of Soi 11 and the malls and parks at Phrom Phong, to the myriad restaurants and speakeasies of Thong Lo and Ekkamai and beyond to the night markets and live music joints in Phra Khanong and On Nut… you might need more than one night to take it all in.
Now that you're orientated, where will you go?