Primary content
At Anantara Rasananda, we put sustainability at the core of everything we do. Being part of the Anantara family, we are committed to preserving the natural resources, promoting the local culture and nurturing the host community that make the northeast coast of Koh Phangan so special. As guardians and stewards of the environment, we see it as our role to help you enjoy local experiences in a responsible way.
Staying in tune with nature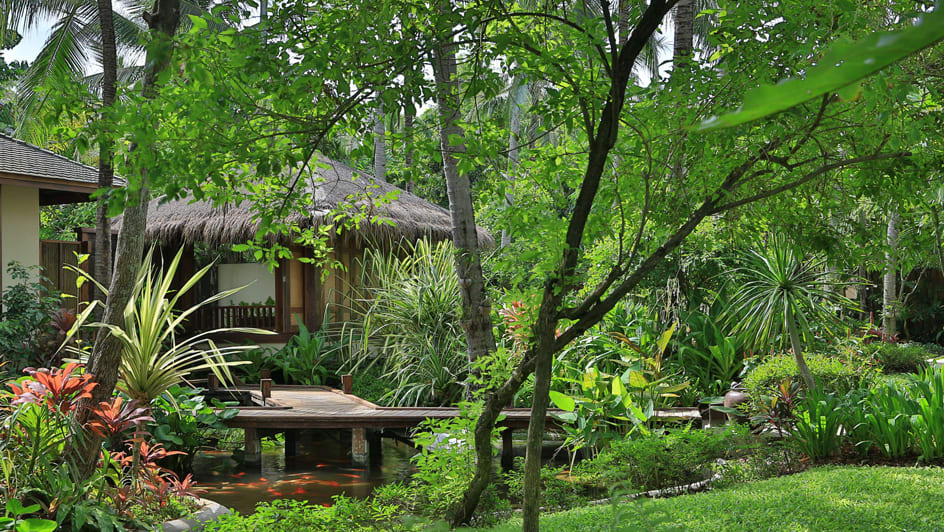 Staying in tune with nature
Blending effortlessly with the breathtaking surroundings, our villas – spacious wooden structures with authentic Thai décor – were made using local materials and methods to create a harmonious design that respects the natural beauty of the island. The accommodation used carefully selected materials such as bamboo, rattan, sago palm and slate and interesting details help blend the buildings together in a layout reminiscent of a local fishing village. The open planning allows you to feel close to the surroundings and nature while relaxing on your bed, in standing bathtubs or a pool. The resort's garden, meanwhile, is filled with tropical plants and flowers, creating a serene oasis for you to relax and unwind amid tranquil ponds and the lush vegetation of Koh Phangan, home to a rich biodiversity of flora and fauna.
The flavours of the land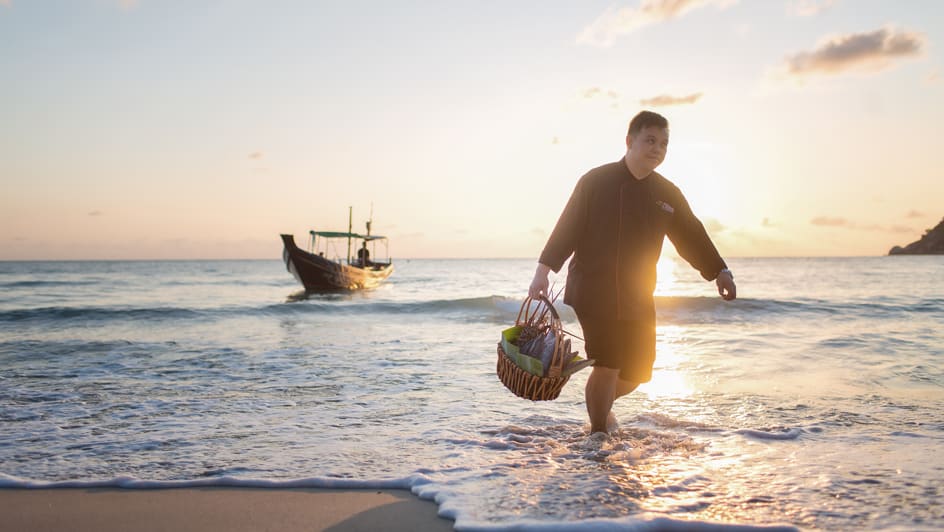 The flavours of the land
To help you discover local cuisine in a setting that is authentic and immersive, we offer an array of eco-friendly experiences and activities, from dining barefoot on the beach on local fare prepared with fresh ingredients sourced from the island and nearby regions to learning how to cook authentic Thai dishes at our Spice Spoons cooking class.
Hosted at the onsite Chef's Garden, the hands-on cooking class invites you to pick herbs and spices from a wide variety of plants that we cultivate in our garden, such as basil, mint, watercress, betel leaves, chilli, lemongrass, kaffir lime leaves, limes and butterfly pea.
At our restaurants, we use refillable glass bottles, biodegradable straws, and compostable breakfast takeaway boxes to reduce our environmental impact. All our baked goods and cured fishes are homemade in-house, and our fish and seafood are from local fish farms in Surat Thani.
Supporting local artisans
Supporting local artisans
At Anantara Rasananda, we are proud to celebrate and support the exquisite work of skilled local artisans and artists by displaying their creations in our boutique. You can admire and purchase a variety of items, such as paintings, sculptures, pottery, jewellery, textiles, and more, all made by talented local artisans. All proceeds from art sales go directly to the artists, so you can support their livelihoods and help preserve their cultural heritage.
We are committed to curating meaningful stays that benefit the environment and the community.