Primary content
A BILL BENSLEY-DESIGNED SETTING PROVIDES REJUVENATING SPA JOURNEYS.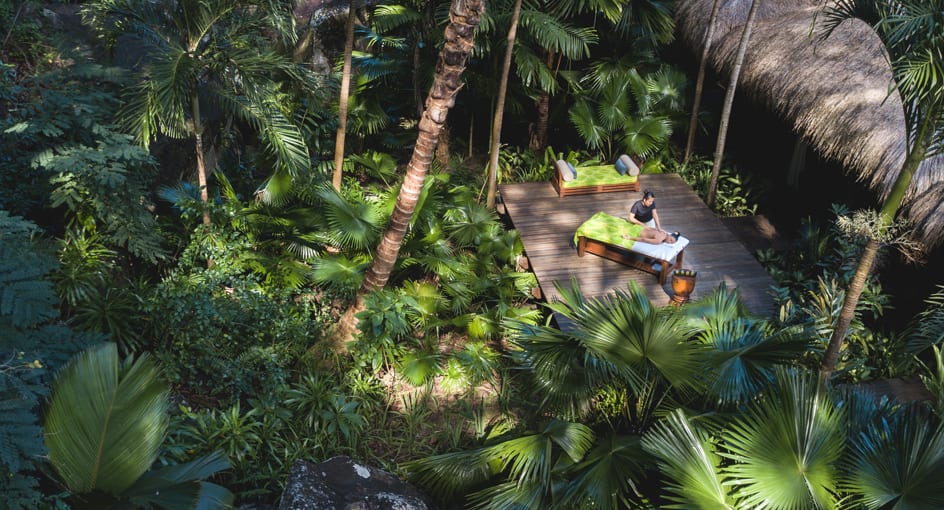 Discover the innovative treatments at a luxury spa in Seychelles.
Experience deeply nourishing spa journeys in the soothing haven of Anantara Spa.
Restorative therapies in this luxury resort spa in Seychelles take place in beautiful treatment areas framed by nature. Infusions of local herbs and fruits unleash natural healing through refreshing treatments inspired by Eastern and Western spa wisdom. Let our expert therapists relax and re-invigorate you with tailored therapies and signature fragrant blends. Connect with your surroundings to feel complete harmony.
Contact Us
Spa Menu
SIGNATURE SPA TREATMENT
Blue Diamond Facial (60 / 90 minutes)
A firming and brightening facial designed to renew the skin, containing key Blue Diamond ingredients that increase elasticity, along with copper and amino acids to revive tired skin cells.

Rest and Revitalise (210 minutes)
Embark on a revitalising journey that will tend to all the senses with this collection of soothing therapies. Get started with an exercise class to stretch out your muscles before indulging in a Revitalising Head and Scalp treatment. That is followed by a Magnesium Glow treatment and Deep Tissue Massage working on your whole body. Your feet are pampered with a stimulating reflexology session before a nourishing meal prepared by our chefs.
Tailored Yoga or Fitness class in your Villa (choose from a set of personalized videos) • Revitalising Head and Scalp Treatment • Magnesium Glow Scrub • Magnesium Deep Tissue Massage • Reflexology • Wellness Lunch/Dinner • Your choice of 'Mental Peak Performance video'


Cacao Indulgence (90 / 120 minutes)

Embark on a deeply nourishing journey that begins with a nectarine and honey body scrub, followed by a self-heating body wrap that cocoons you in cacao, an anti-oxidant that fights off free radical damage. Feel soothed by a warm coconut oil scalp massage and then a warm cocoa oil candle massage will bring waves of intense relaxation.

Nectarine and Honey Body Scrub • Self-heating Cacao Body Wrap • Warm Coconut Oil Scalp Massage • Warm Cocoa Oil Candle Back Massage • Fruit Platter with Healthy Juices • Drinks
Mini-facial is included in the 120-minute package.