Primary content
Anantara Chiang Mai's Muay Thai World Champion Hopes to Inspire More Women to Take Up the Sport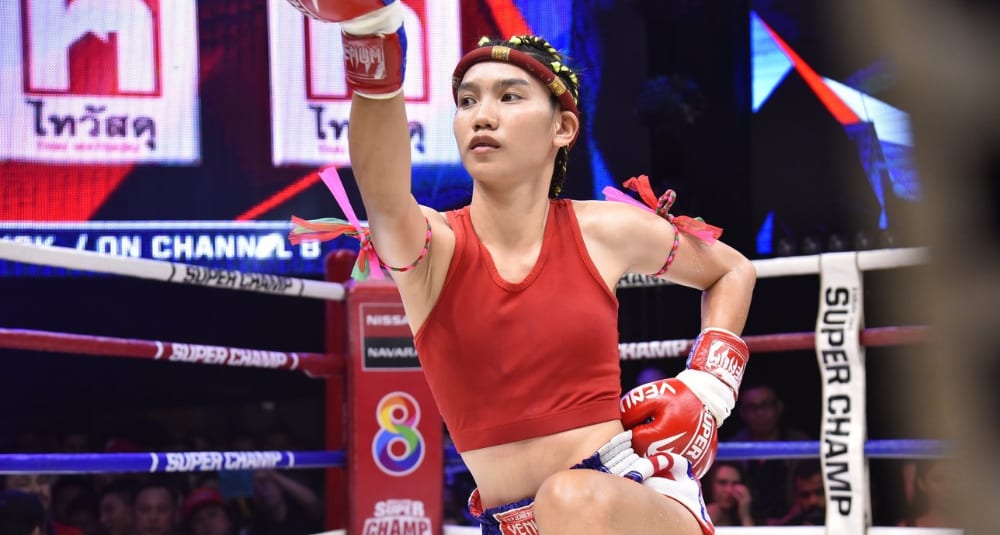 A celebrated Muay Thai champion known to her many fans as Kru Saifha, 26-year-old Natthanicha Suparat started practicing Thai kickboxing at the age of nine, winning major international titles while still in her teens. A self-described "thunderbolt" when in the boxing ring, as a martial arts instructor she channels her fighting spirit to give her students confidence in their abilities.
Muay Thai, also known as Thai boxing, is a combat sport that makes use of stand-up striking alongside various clinching techniques. In Thailand, the "art of eight limbs" is characterised by a unique mystique, while for casual practitioners it's first and foremost a great full-body workout and a stress-release technique to stay mentally and physically fit.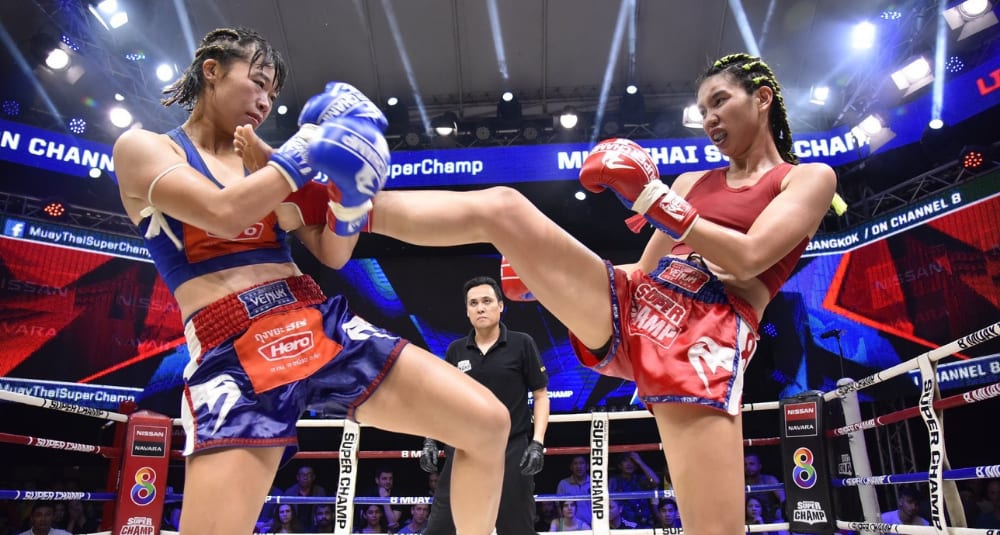 Natthanicha, who trains locals and foreigners in her home province of Phayao in Thailand's north, welcomes anyone, regardless of why they want to learn to kick and punch and elbow. In fact, she hopes that as more women come to the sport for its health benefits, they will discover the beauty of Muay Thai and fall in love with everything the discipline stands for, just as she did as a kid.

For Natthanicha, it all started with a family trip to her uncle's boxing camp. As the adults went about their business, the bored 9-year-old killed time watching fighters exchange blows at the gym. Imitating them, Natthanicha tried kicking a heavy punching bag next to her. It felt great. After convincing her father to let her stay at the camp, Natthanicha spent the next month training and sparring with her uncles and seniors.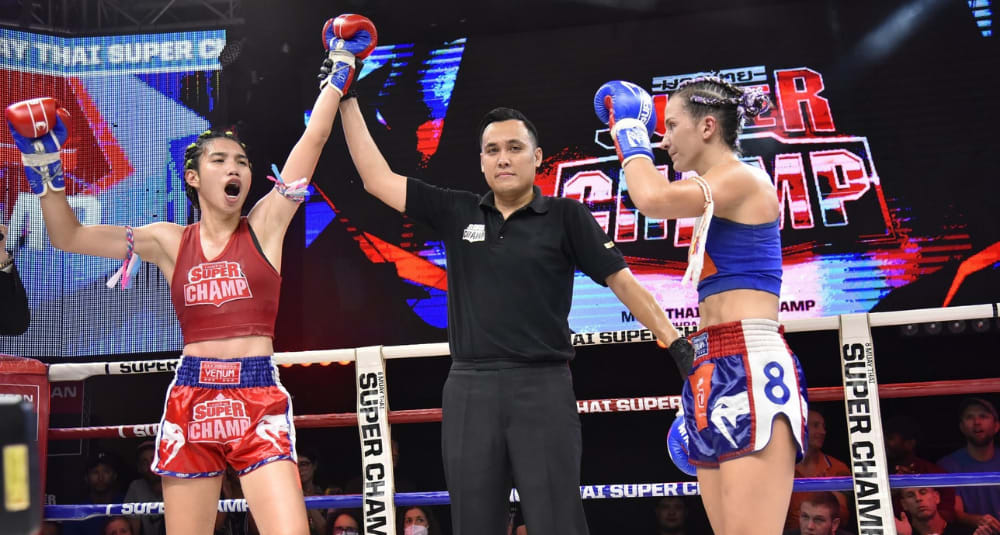 She didn't have to wait long for her break. Only a month after Natthanicha got her first pair of boxing shoes, she was paired up with a much more experienced male boxer at a fun fair when one of the scheduled fighters failed to show up. For Natthanicha, the match started with a bloody nose but ended with a sweet taste of victory. In the three months that followed, she kept training before and after school and won every single match she fought.
The plucky youth quickly caught the attention of the provincial women's boxing authority who encouraged the dark horse to take part in the Northern Women's Boxing Championship. Their bet paid off — Natthanicha won the competition and afterwards promptly rose to the top of the sport's league table. At 15, already a member of the Women's Boxing Association of Thailand, she represented her country at the World Muay Thai Federation (WPMF) competition, returning home a world champion.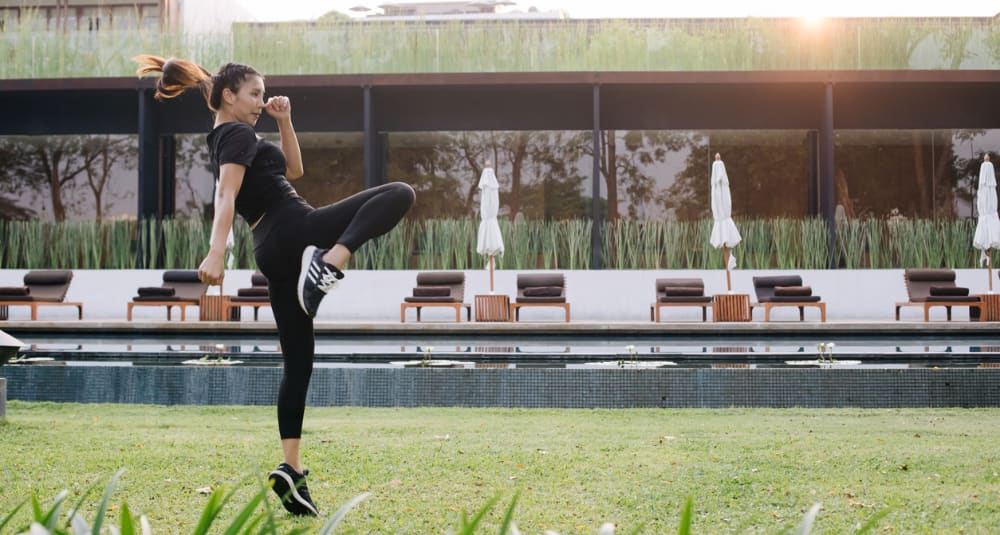 One of the reasons Natthanicha has taken up the Anantara Chiang Mai residency is her ambition for the sport to be embraced by more women. Anyone can practice Muay Thai, regardless of their fitness level, says Natthanicha, adding that women actually have an advantage over men in terms of agility and speed. And using your fists, elbows, knees and shins gives you a fantastic full-body workout as well as valuable self-defence skills.
As one of Anantara's gurus — a company-wide network of experts who possess unique skills and knowledge — she is now teaching Muay Thai to hotel guests. There are a number of programmes, ranging from Muay Thai Fight Fit Class that focuses on boxing techniques to strengthen your whole body to Muay Thai Self-Defence Class that promises to burn a whopping 740 calories in one 60-minute session. The resort also offers a daily group kickboxing dance class — a non-contact aerobics routine with Kru Saifha incorporating kickboxing movements and upbeats music.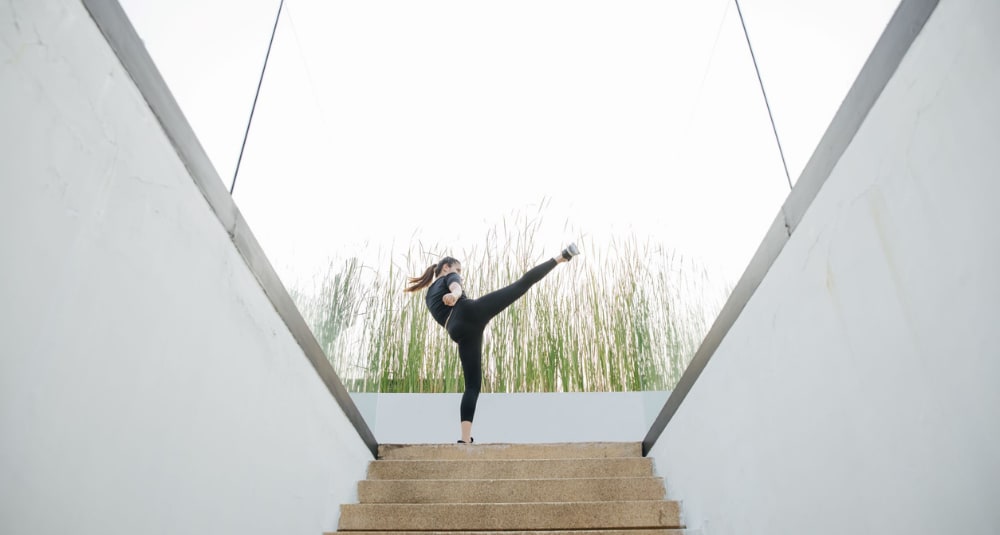 Yet arguably the most unique Muay Thai experience at Anantara Chiang Mai is the Wai Khru Ram Muay Ceremony, in which guests are invited to participate in a dance ritual that fighters perform before the bout begins. Set to the rhythmic soundtrack of Sarama, a traditional Thai music genre that accompanies all Muay Thai fights, the ritual and its hypnotic sounds are interwoven with the very fabric of Thai culture.

While not everyone who takes up Muay Thai will end up training competitively, having Natthanicha in your corner for just one session will give your confidence a major boost, as well as adding an extra layer to your holiday.