Primary content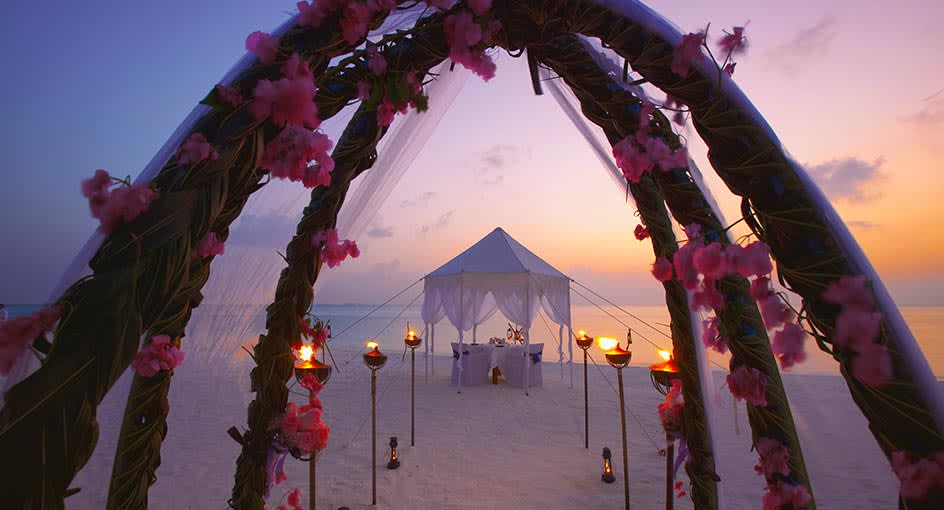 Matrimoni tradizionali sulla spiaggia alle Maldive.
Sposatevi in tradizionale stile maldiviano, con il capo dell'isola a presiedere la vostra cerimonia. Viaggio di nozze nel lusso con un ventaglio di sontuose esperienze per due.
COVID-19 Update: A Message to our Guests
Click here to find more about our 'Stay with Peace of Mind' initiative as well as the latest government regulations when travelling.
Rilassatevi prima della cerimonia con un percorso spa per due. Il grande momento è alle porte: scambiatevi gli anelli sotto un arco di seta bianca e fiori, con il capo dell'isola a farvi da testimone. Iniziate la vostra luna di miele con champagne, tartine e un barbecue in spiaggia per due sotto le stelle. Date inizio alla vostra vita matrimoniale con una prima colazione accompagnata da champagne sulla laguna.
Il pacchetto include:
Coordinatore nuziale Anantara
Cocktail di benvenuto per la coppia
60 minuti di trattamento spa con aromaterapia per la coppia prima della cerimonia
Bouquet di fiori per la sposa e boutonnière per lo sposo
Location del matrimonio decorata in stile tropicale
Suonatori di tamburi Bodu Beru maldiviani per iniziare la cerimonia
Damigella della sposa
Capo dell'isola come officiante (cerimonia simbolica non religiosa)
Certificato di matrimonio simbolico e rituale degli anelli
Fotografo professionista per due ore (il giorno della cerimonia)
Album fotografico con 36 fotografie di dimensioni 8x10" e CD con un massimo di 100 immagini digitali
Una bottiglia di champagne per il brindisi e una selezione di tartine fredde
Torta di matrimonio a strato singolo
Cena romantica privata con barbecue sulla spiaggia
Servizio di preparazione della camera serale con fiori, liquore e cioccolatini
Cerimonia del bagno floreale allestita in camera la notte del matrimonio
Prima colazione accompagnata da champagne sulla terrazza solarium della camera
Le tariffe partono da

EUR 3.471
Termini e condizioni
•
Il prezzo è soggetto all'applicazione di un supplemento per costi amministrativi pari al 10% e delle vigenti imposte dello stato.
•
I prezzi non includono la sistemazione e trattamenti di mezza pensione o pensione completa.
•
I dettagli organizzativi del matrimonio e della cerimonia possono essere finalizzati solo dopo un soggiorno minimo di due giorni presso il resort per garantire un tempo sufficiente per la preparazione.
•
Il matrimonio è solo di natura simbolica e non ha validità legale.
•
Gli anelli nuziali e l'abito da sposa saranno forniti dalla coppia; in alternativa, saranno disponibili capi tradizionali maldiviani a Malé.
•
Politica di cancellazione: per cancellazioni una settimana prima, verrà addebitato il 25% della tariffa del pacchetto; per cancellazioni tre giorni prima, verrà addebitato il 50% della tariffa del pacchetto; per cancellazioni un giorno prima, verrà addebitato il 100% della tariffa del pacchetto.