Primary content
COVID-19 TRAVEL UPDATES TO THE MALDIVES
Thank you for choosing Anantara Kihavah in the stunning Baa Atoll region, a UNESCO Biosphere Reserve in the Maldives archipelago. We are delighted to have you stay with us as we strive to create a truly memorable experience for you.

Our highest priority is to maintain a safe and secured environment on our island for our guests and team members, so that it remains your private sanctuary, providing respite from everyday life.

We are uniquely placed to optimise this from our private island location, with complete control over who is permitted to enter our resort. Our all-villa accommodation presents the ultimate seclusion. Cradled by lush greenery and heritage palm trees, and a 360 degrees encircled beachfront, all our villas are exceptionally private, with spacious outdoor and indoor areas for dining and relaxing, including your own swimming pool and sundeck.

To help address concerns you may have regarding your upcoming travel to the Maldives, we have prepared the following guide for every stage of your journey.
Travel to the Maldives
All tourist arrivals to the Maldives will be provided with a 30-day validity visa on arrival. As part of the visa requirement, you must present the following documents:
- A confirmed hotel reservation of your stay at our resort
- A self-declaration health form must be submitted within 24 hours prior to your flight. This is an online form to be completed via https://imuga.immigration.gov.mv/ethd
- Effective from 10th September, a negative COVID-19 PCR test certificate in English, conducted a maximum of 72 hours prior to your departure flight to the Maldives, from your first point of embarkation. Children under one years old are exempted from this test.
Arrival and Transfer
Upon your arrival to Velana International Airport, you will be escorted by our airport welcome host to our seaplane lounge manned by our partner – Manta Air. Complying with COVID-19 protection standards, your luggage will be handled throughout your journey by a dedicated handler and sanitised at every stage.

Every transfer; seaplane or domestic, and speedboat will be thoroughly sanitised after every trip with a minimum gap of 30 minutes between each trip. Should you be boarding a seaplane, Manta Air aims to provide a non-stop transfer to our resort whenever possible.
Seaplane Lounge
Physical distancing compliance with lounge seating maintained at a space distance of 3 feet. Guests travelling together as a group will be accommodated in a clustered seating, separate from other grouped or individual guests. For your convenience, hand sanitiser points will be available throughout the lounge. It is advisable to always keep your mask on. Should you require additional masks, the lounge will be able to provide this on request.
Anantara App
Aimed at reducing physical interactions in situations where automated contactless communication is possible, we are pleased to offer the Anantara app available for download on the iTunes or android app stores.

From being able to make a room reservation, viewing details of your itinerary, a live chat request to your Villa Host, ordering in-villa dining or making a spa reservation, this app is designed to provide a smooth and seamless experience of your stay at our resort. It will also allow you to check in and check out, with the ability to review your billing portfolio and make the final bill payment though the app. Its live chat functionality will also allow for multiple third-party platforms such as WeChat, WhatsApp, Telegram, Line and more. The app will also act as a mobile key in providing access to your villa, removing the need for room key cards.
Stay with Peace of Mind
We are committed to safeguarding your health and wellbeing during every moment of your stay.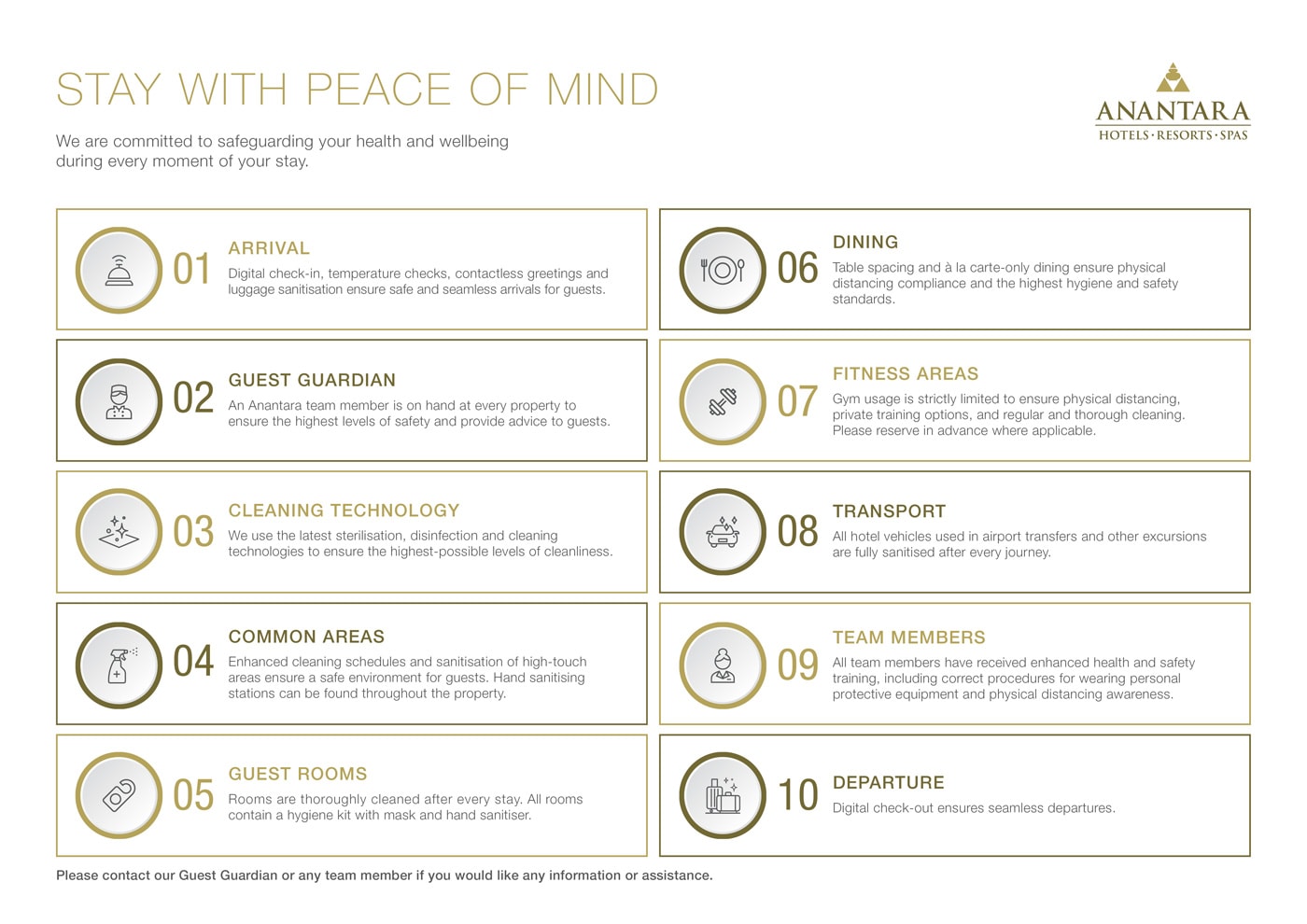 Resort Medical Services
Our resort doctor and nurse are on call 24 hours, daily. Consultation, examination and basic medication will be provided complimentary for all guests. In situations requiring further medical attention or a referral case, including and not limited to laboratory testing and transfer to a government medical facility, the costs of these will be charged to the guest's account. Guests will be referred to the neighbouring Eydhafushi Hospital or hospitals in Male city.
PCR Testing for International Flight Departure
Should you be required to present a PCR test result as part of your international flight departure requirements, our resort can facilitate this process.
We have partnered with 3 private hospitals in Male city to provide this service at US$ 205 per person per test. An advance notice of 72 hours prior to departure date is required.

Testing will be done in the privacy of your villa and samples will be sent immediately to the laboratory for analysis. The test results will be provided within 48 hours and sent by email.
Departure from the Maldives
A self-declaration health form must be submitted within 24 hours prior to your departure flight. This is an online form to be completed via https://imuga.immigration.gov.mv/ethd.
Health Protection Agency (HPA) Regulations
In accordance with local regulations issued by the Ministry of Health, passenger arrivals into the Maldives may be screened for COVID-19. Passengers displaying symptoms may be required to undergo testing at the discretion of the HPA. In accordance with the law, we are required to report all suspected cases to the authorities for further testing to be conducted.
In the event of a positive test result, our team will assist in your relocation from the airport or resort, to the official government facility as designated by the HPA. Whilst it is regretful that your vacation plan may be interrupted, your health, safety and wellbeing remain our upmost priority and we are committed to ensuring that you receive access to the best possible medical care and facilities for recovery.

In the unfortunate event of a demise resulting from COVID-19, HPA regulations does not allow for repatriation of the body nor cremation. Burials will take place at Hulhumale.
*Foreign currency conversions are given as guidance only and are non-binding. Only the currency confirmed at time of booking is guaranteed.