Primary content
Yoga with Wellness Guru Kamal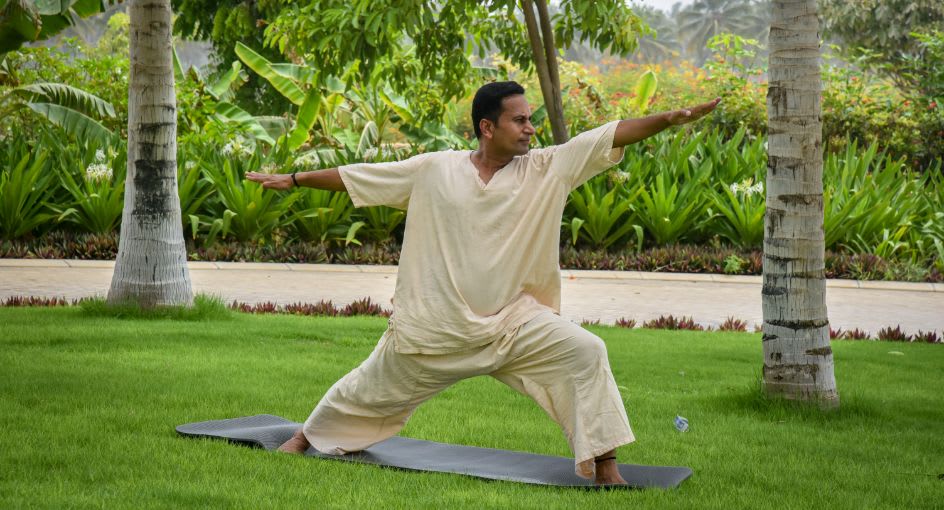 Discover zen through natural breathing and movement.
Move your body through a series of stretches to release tension and stress. Join Kamal as he instructs you through gentle exercises that have a positive impact on body and mind. Unlock the power of this ancient meditation and feel the energy flood your body. Varying levels are catered for, choose a style to suit you.
For beginners, intermediate and advanced:
Hatha Yoga
Asana Yoga
Bikram Yoga
Pranayama (Natural breathing)
Yoga Nidra (Meditation)
Dhyana Yoga (Meditation)
For intermediate and advanced:
Yin Yoga
Power Yoga
Prenatal Yoga*
Price:
OMR 17 per person per 60-minute session
OMR 50 per 60-minute session for five persons
Al Baleed Resort Salalah by Anantara
 
136 Zimmer, Villen und Poolvillen
 
250 m Privatstrand
 
Infinity-Pool, Süßwasserlagune und Wassersport
 
Neben dem Archäologischen Park Al Baleed und dem Weihrauchmuseum
 
Allgemeine Geschäftsbedingungen
All prices are inclusive of 8% Service Charge, 5% Municipality, 4% Tourism and 5% Value Added Tax.
Offer is not valid in conjunction with other offers and promotions.
Advanced booking is required.
*Private sessions available for pregnant women only.
For more information on applicable tariffs during your desired booking period or to make a reservation, please contact our reservations desk or click on 'Book Now'.