Primary content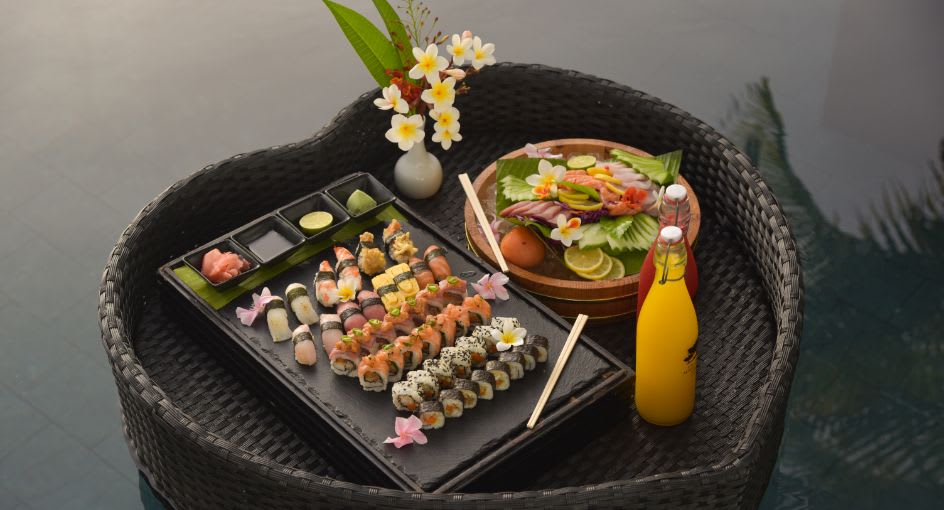 Indulge in a brimming floating tray experience.
FLOATY MOMENTS
Begin your day the Thai way with a floating breakfast in your private pool. Enjoy the privacy of your villa pool and delve into fresh fruit and pastries in the gentle morning breeze. Or indulge in a floating sunset experience. Choose from sweet temptations or delectable sushi sashimi and soak in the calm water as you share bites with your loved one.
Available for Villa Guest Only
Pool Villa booking is required
Price:

OMR 21 per breakfast tray

OMR 25 per sushi sashimi* or sweet temptation tray**
*24 hours' advanced reservation required. **3 hours' advanced reservation required.
Al Baleed Resort Salalah by Anantara
 
136 Zimmer, Villen und Poolvillen
 
250 m Privatstrand
 
Infinity-Pool, Süßwasserlagune und Wassersport
 
Neben dem Archäologischen Park Al Baleed und dem Weihrauchmuseum
 
Allgemeine Geschäftsbedingungen
Prices are inclusive of 8% service charge, 5% municipality, 4% tourism and of 5% value added tax.
Simply dial +96823228222 or select Book Now to place your order.