Primary content
Experience a historical Thai adventure as you cruise along the Chao Phraya River in the comfort of our luxurious Anantara Cruise and witness striking landmarks of a bygone era. Today, a trip up the historic waterway will introduce you to sacred sites, fascinating heritage museums and to experience local folk traditions.
Sacred Sites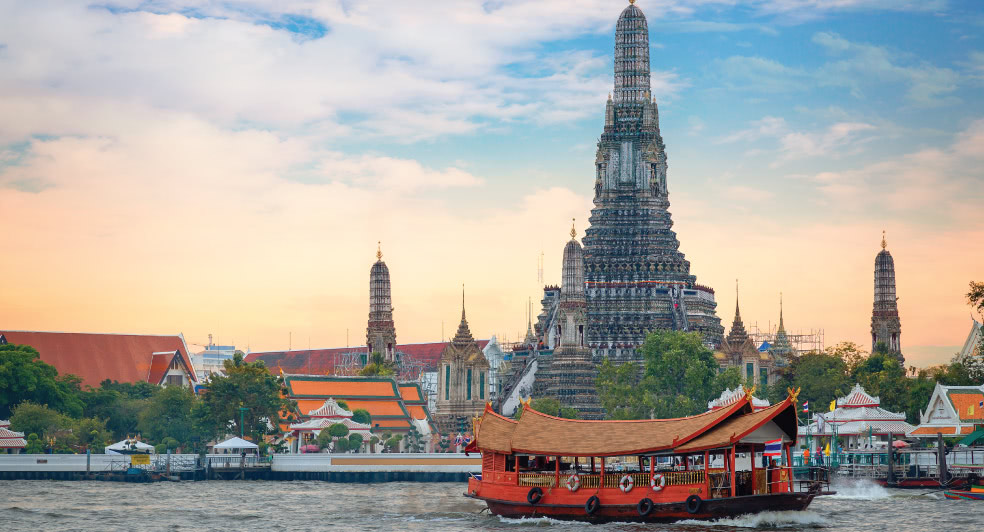 Morning Rituals
Embark on a Chao Phraya river cruise and capture the magnificence of the Wat Arun (Temple of Dawn). Standing on the west bank of the Chao Phraya River in Thonburi, Wat Arun has existed since the days when Ayutthaya was still the capital of Thailand.
Today, it is one of Bangkok's best-known landmarks, famous for its uniquely decorated chedis covered with thousands of pieces of multicoloured Chinese Porcelain.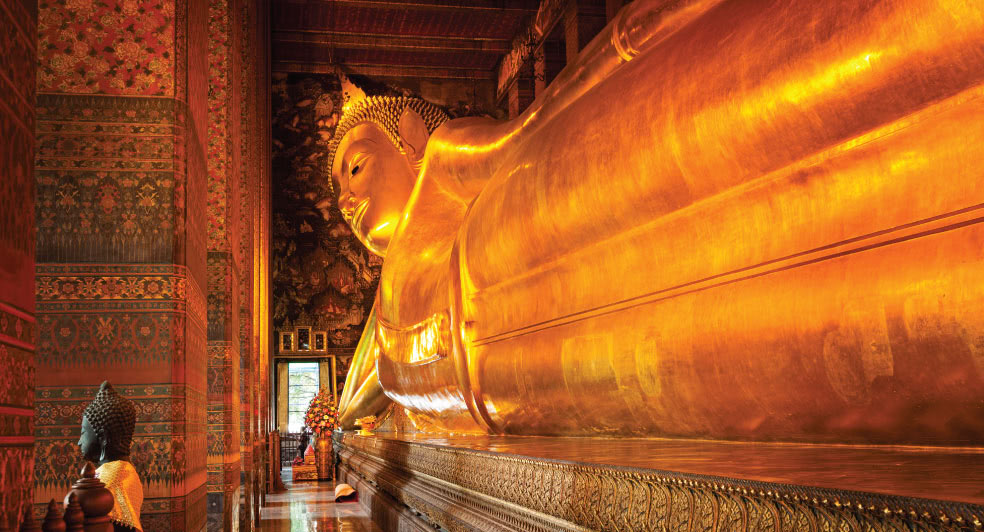 Reclining Buddha
According to a famed Thai chronicle, King Naresuan rested with his army here to pay respect to the Reclining Buddha before his great white elephant battle with the Burmese Crown Prince, King Maha Uparacha. Now a royal grade monastery (Wora Wihan), this temple is an integration of two former buildings, Wat Chi Pakhao and Wat Talat.
During the reign of King Thaisa of Ayutthaya, the temple was known as Wat Pamok because of the existence of so many "Mok" or Apocynarea trees in the area. At 23 metres long, the Reclining Buddha is one of Thailand's oldest and most beautiful.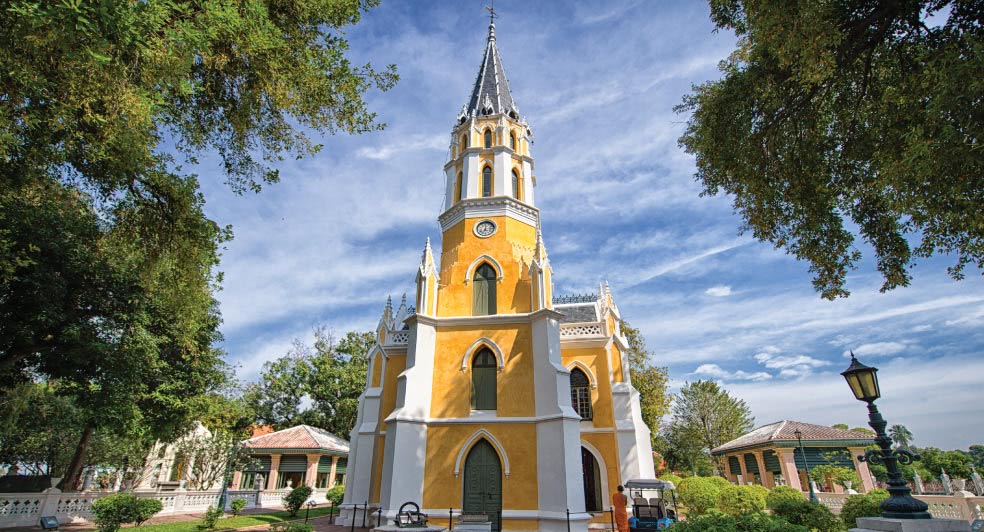 Thailand's Neo-Gothic Monastery
Constructed at the command of King Rama V in 1878, Wat Niwet Thammaprawat was built in the style of an English Gothic church. The temple's stained-glass windows and unusual architecture make it one of the most distinctive Buddhist temples in Thailand.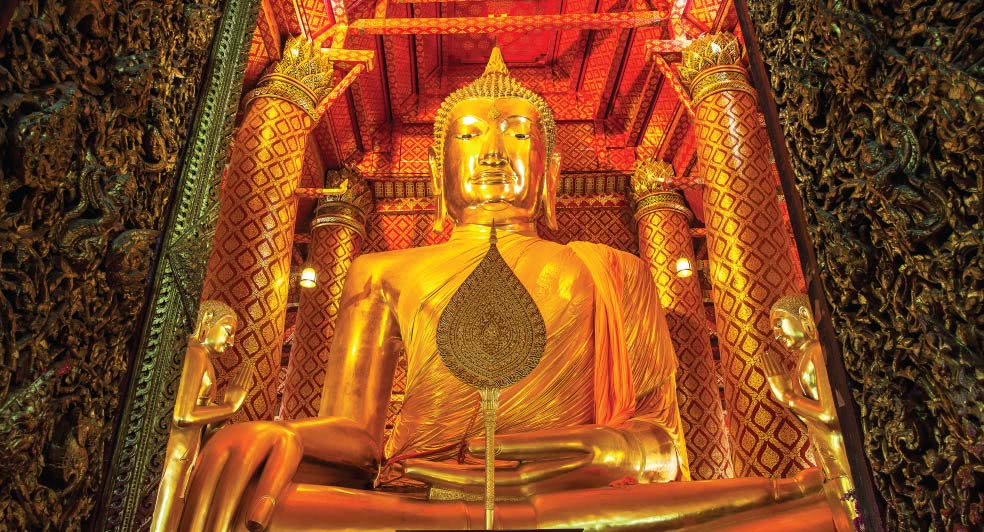 700-Year-Old Wonder
One of the largest and most ancient temples in Ayutthaya, Wat Pananchoeng was built in 1324 to shelter a massive sitting Buddha given to Thailand by an Emperor of China.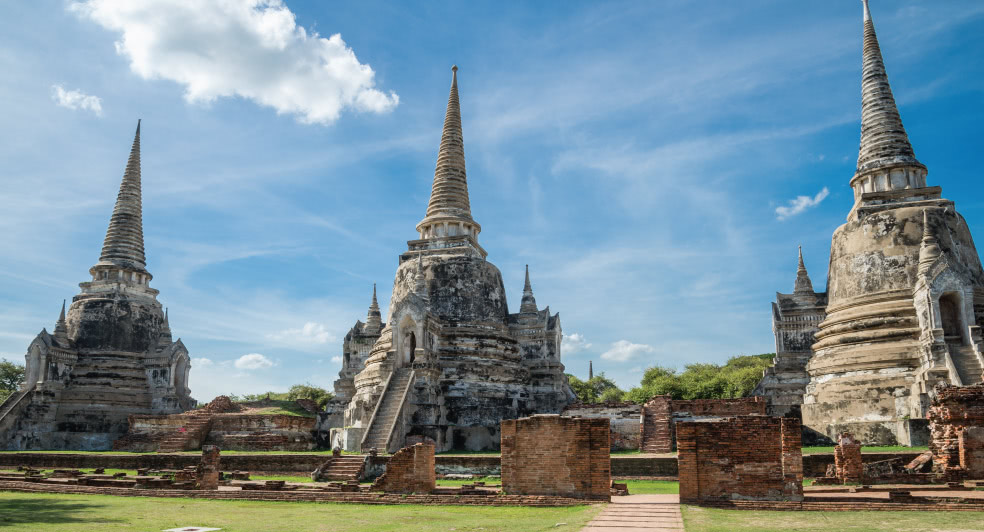 Ayutthaya's Grand Palace
The most important monastery located in Ayutthaya's Grand Palace is Wat Phra Si Sanphet, built during the 15th century. Formerly a residential palace, it was later used as a royal chapel, but no monks or novices have ever inhabited the Wat, as is the normal practice at other temples. Its ruins are one of Ayutthaya's most beautiful sites.
Bronze Buddha
Adjacent to Wat Phra Si Sanphet on the palace grounds is the Wiharn Phra Mongkhon Bophit, which houses a large bronze-cast Buddha image originally enshrined outside the Grand Palace to the east. The original sanctuary (wihan) and Buddha image were badly destroyed by fire during the second fall of Ayutthaya.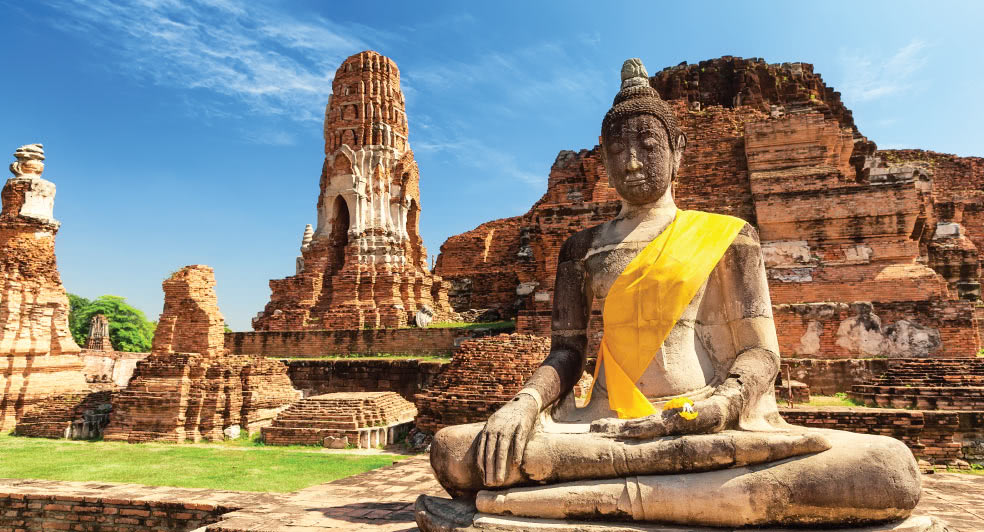 The Ruins of Wat Mahathat
A tall pagoda built by King Ramesuan in 1384, Wat Mahathat houses a relic of Lord Buddha, several golden Buddha images and many other objects in gold, ruby and crystal.

Believed to be one of Ayutthaya's oldest temples, Wat Mahathat is located in front of the Grand Palace, next to Pa Than Bridge. Its central prang, of which only the base remains, once rose to a height of 50 metres. Traces of the original stucco decorations can still be seen on some of the surrounding chedis.
Living Culture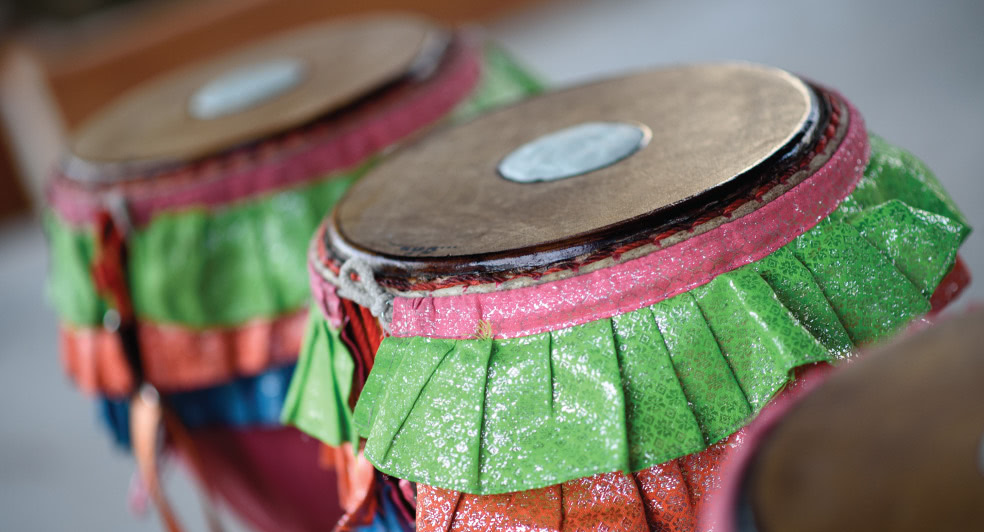 Ekkarat Drum Making Village
The residents of this village began making drums in 1927. After the harvest, villagers carve the soft wood from the silk or rain tree, and then fit it with cow or buffalo skin for the drumhead. View the whole process from wood lathing to the final tuning of the skin. All sizes of drums are still produced with exquisite craftsmanship.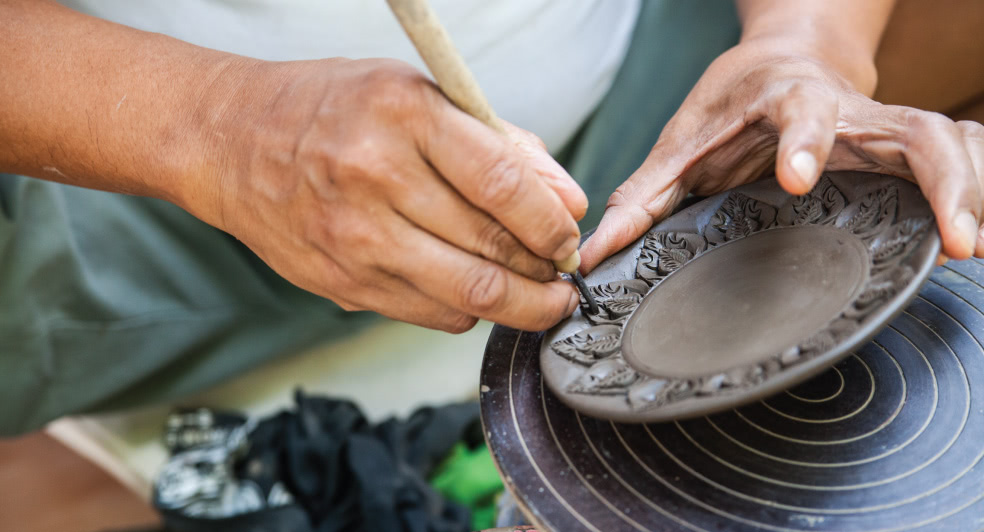 Potters of Koh Kret
Pottery making was one of the traditional skills brought by Mon refugees to the river island of Koh Kret in the 18thcentury. Today, Mon people continue to earn their income as their ancestors did by producing simple, utilitarian flowerpots.

However, they also make more elaborate Mon-style creations such as decorated water jars and lightly glazed cooking pots similar to those found in the ancient city of Ayutthaya. Each worker can produce approximately 300 pots a day.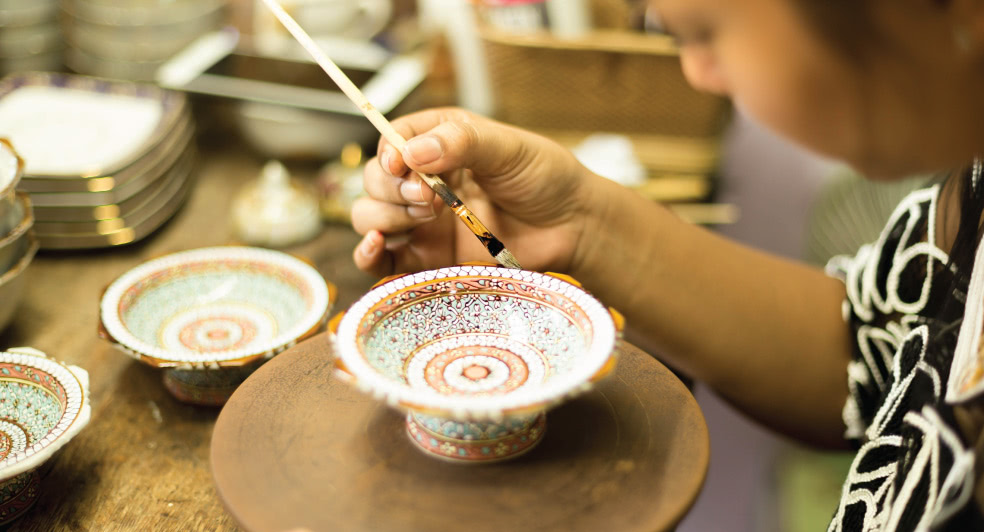 Bang Sai Royal Folk Arts and Crafts Center
Established to promote unique handmade local products, the Bang Sai Royal Folk Arts and Crafts Centre is the main centre for handicrafts in Thailand. On the large grounds visitors will find exhibitions showcasing handicrafts and arts from all four regions of Thailand.
Explore the handicrafts village with wooden houses representing different regions of Thailand, workshops where you can watch how handicrafts are being made and a bird park named Suan Nok that has two large aviaries housing dozens of birds.
*Foreign currency conversions are given as guidance only and are non-binding. Only the currency confirmed at time of booking is guaranteed.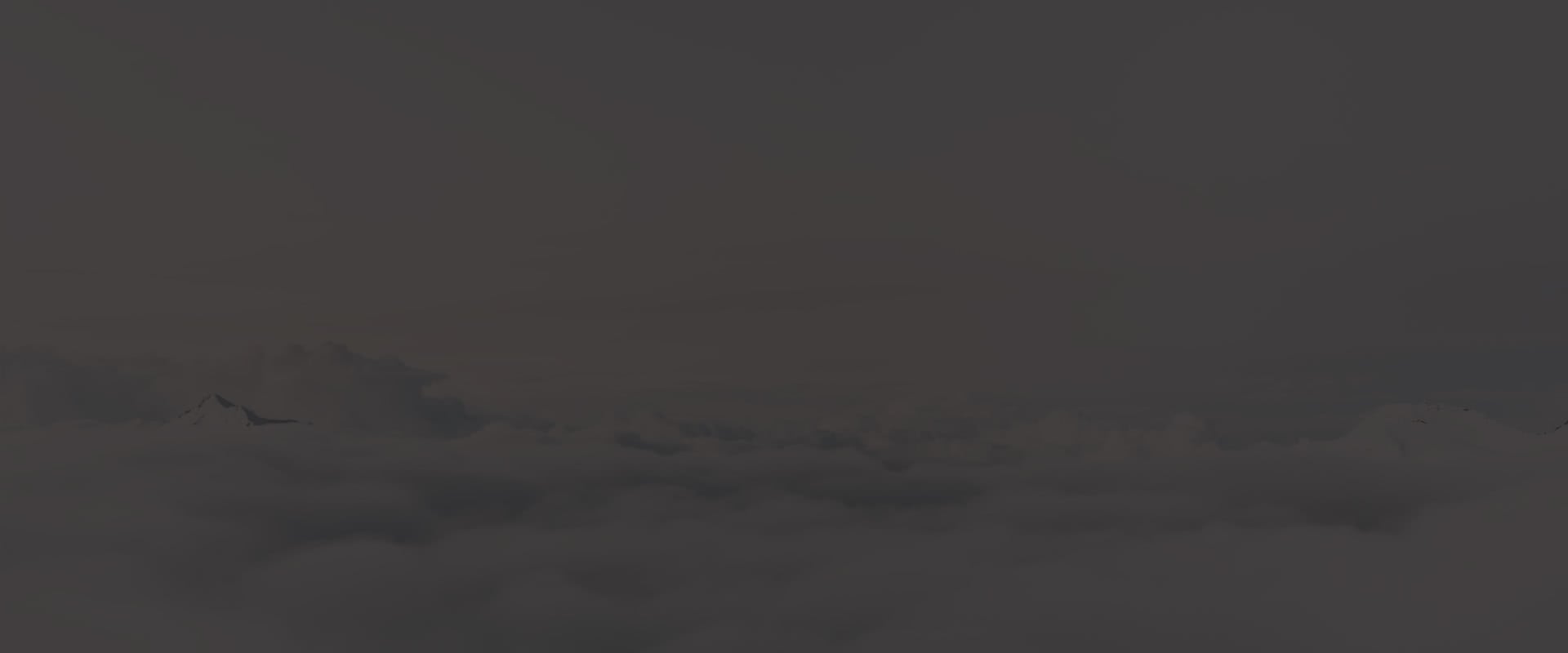 CONTACT US
Anantara Cruises
Anantara Reservations Team