Primary content
Discover the real Bangkok with Anantara's Streetwise Guru
Step behind the tourist scenes to uncover the capital's best back street cuisine and hidden cultural highlights, with Anantara's Streetwise Guru Chetta Khambunditkul as your knowledgeable local guide.
Chettha has worked at Anantara Bangkok Riverside Resort for 15 years and is also Chief Concierge for the property, is a member of the Hotel Concierge Association, and is always testing out new culinary recommendations. Consequently he has developed a Bangkok gastronomy hot list that is second to none, meaning that guests needn't navigate the city's overwhelming choice, and can simply head straight for the places that boast his experienced seal of approval. Even better, guests can ask Chettha to accompany them on a tour to explore lesser known attractions in addition to famous sites. This unique opportunity to combine a cultural and culinary trip comes with the added educational and cultural appeal of gaining insider knowledge from a local's point of view.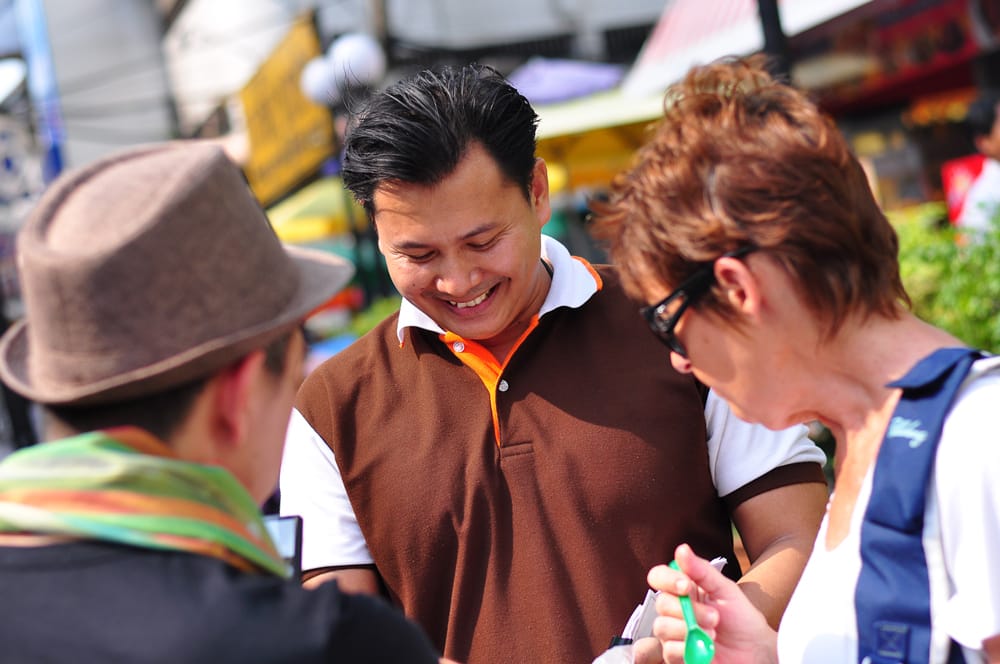 Bangkok's energetic markets are brimming with colourful produce, fresh herbs and exotic spices, and a visit not only provides an eye catching glimpse into local daily life, but also an introduction to the broad range of ingredients that create the distinctive sweet, sour, salty and pungent flavours that Thai cuisine is famed for. Chettha particularly recommends one of Bangkok's oldest markets, Talard Plu, which can be reached by a short taxi or thrilling tuk-tuk ride. The morning market, Talard Bangrak, is even closer to the resort near Taksin bridge pier, and Chettha raves about the diversity of dry herbs and spices which make for great souvenirs.
By comparison, China Town's vast bazaar network is packed with market stalls, street-side cafés, wooden shop houses serving as Chinese medicine stores, and probably the greatest concentration of gold shops in the city. From here guests can stroll to Pahurat textile market and ask Chettha to help them haggle over high quality materials to be made into dresses and suits by excellent local tailors. Visitors wishing to encounter Thailand's skilled craftsmanship can request a trip to Bann Bat village to see how the brass alms bowls that Buddhist monks carry on their morning rounds are hammered out by hand, as they have been since the late 18th century.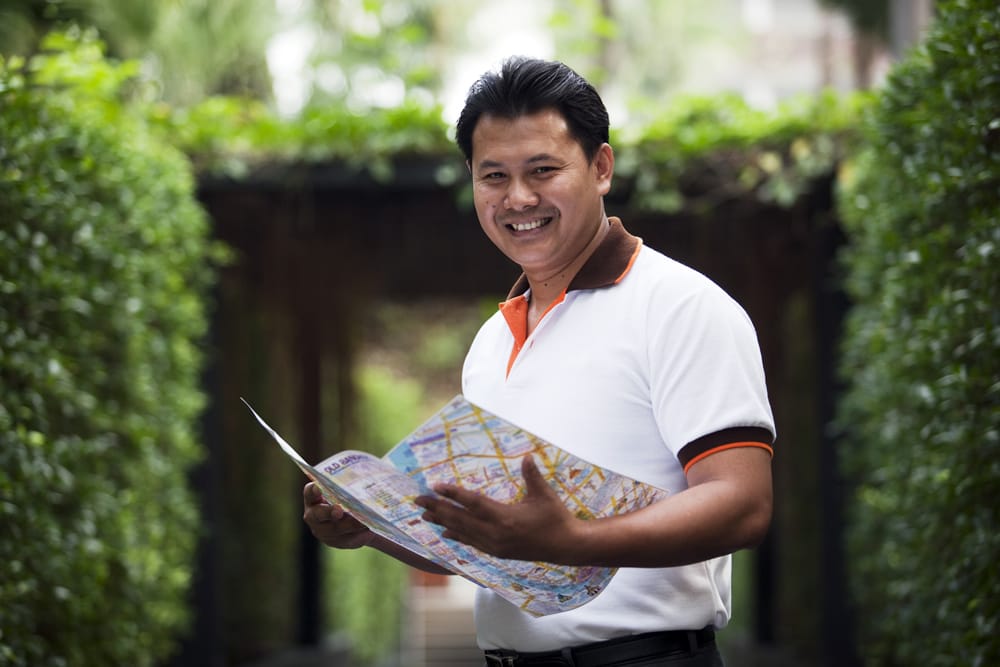 As a local food connoisseur, Chettha passionately promotes the Thai people's love of street food. Lining almost every road or 'soi', vendors offer live "eatertainment" for every sense, with street-side tables tempting passersby with spicy aromas and masterful cooking displays. With Chettha as their friendly companion, guests can walk just a few minutes from the resort to find small sois teeming with food stalls, and as Chettha knows these like the back of his hand, he can easily take hungry guests to the tastiest roasted duck noodles, BBQ pork noodles, fish ball noodles and spicy tom yum soups, to name but a very few of the delights in store.
Following his motto of "great food, great place, great company", Chettha takes into account the overall experience when suggesting the perfect local restaurant. At his recommended riverside venues, diners watch cruise boats drift by as they savour fresh seafood grilled to perfection, rich Thai curries, sizzling stir fries and spicy herb infused salads in a romantic waterfront atmosphere. Chettha also knows the most popular Vietnamese and Chinese restaurants, local favourites tucked behind narrow streets that tourists would never find themselves, and establishments renowned for unusual signature recipes that guests might not be quite so willing to try without Chettha's personal approval. Diners seeking a more familiar culinary experience can enquire about the finest Thai and western fusion menus. While to top off a great night, Anantara's all-round guru also knows the most appealing dinner shows and even the liveliest karaoke hang outs!
Call upon Anantara Bangkok Riverside's Streetwise Guru and explore Bangkok's secret treasures.